SPECIAL REPORT: Prince William And Kate Middleton's Wedding - What To Expect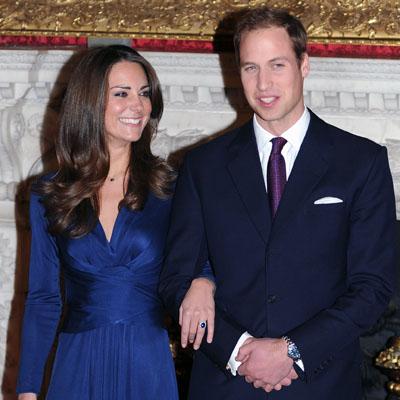 Prince William and Kate Middleton's wedding is set to be one of the most celebrated events in history and with millions of people already gripped with excitement over the big day, RadarOnline.com has all details of what to expect from the ultimate royal British wedding.
LOCATION: Kate has been spotted visiting Westminster Abbey, the famous 1,000-year-old church, which is where British kings and queens are crowned. It also holds a place in the Prince's heart because his mother Princess Diana's funeral was held there. It can hold 2, 200 people and does not cost anything to book. The only people allowed to marry there are members of the royal family, abbey staff and members of the ceremonial Order of the Bath and their families.
Article continues below advertisement
Only around a dozen weddings a year are held there.
ESTIMATED COST: Prince Charles' wedding to Princess Diana in 1981 cost approximately £30 million ($45 million). This wedding is expected to cost more than double that amount. However, the newly engaged couple are "mindful of the current economical situation" according to his office.
WHO PAYS: While it is still tradition for the bride's parents to foot the bill for the wedding, in this case, money for the festivities may come from the annual $11.6 million in government funding given to the royal household to pay for salaries and official functions. The Queen may personally pay for it however and Charles is expected to pay some of the bill with Kate's self-made millionaire parent are also contributing.
NEW PHOTOS: Prince William & Kate Middleton Pose In London
DATE: Saturday August 13 is the early favorite with British bookies though some say March and July (July 8 or July 29) are also contenders. July 29 is a strong possibility since it is when his parents married.
THE WEDDING PARTY: Prince William's younger brother Prince Harry is expected to be his best man and Kate's sister, Pippa, will be her chief bridesmaid.
Article continues below advertisement
THE DRESS: Kate wore a dress by ISSA, one of her favorite designers, for the engagement. But when it comes to her wedding gown, English wedding planner Mark Niemierko believes she will opt for a romantic English gown from a designer like Brice Oldfield or even Elizabeth Emanuel who designed Princess Diana's dress.
HIS SUIT: He will wear a traditional dark colored morning suit most likely by a taIlor on infamous Savile Row in plush Mayfair, Central London.
FAMOUS GUEST LIST: Although Kate is the first commoner to be made part of the royal family since the 1600's, the guest list will still be brimming with political figures and celebrity friends and acquaintances including: Barack and Michelle Obama, Tony Blair, Elton John, David and Victoria Beckham and Sir Richard Branson - whose daughter Holly is good friends with Prince William.
RECEPTION: Will be held at a private royal property such as Buckingham Palace.
Article continues below advertisement
FLOWERS: Top English florist Rob Van Helden Floral Design Limited, who has created floral designers for the likes of the Beckhams, Pierce Brosnan and Elton John, is a favorite.
CAKE: The cake will be exuberant with numerous tiers in cream and white. Traditionally the top layer is fruit cake which is frozen and eaten at the christening of the couple's first child.
HONEYMOON: The couple will likely have a low key honeymoon in the British Isles like other regal newlyweds. Already Morecambe's MP - in the north of England - has invited them to spend it there saying he "would be delighted to welcome them" and "can assure them they would have the most romantic sunset in the world each evening". The destination is considered one of the most romantic settings in the world. The 'kiss' in the 1940's film Brief Encounter took place at the local train station.