PHOTOS: How To Dress Like A Princess!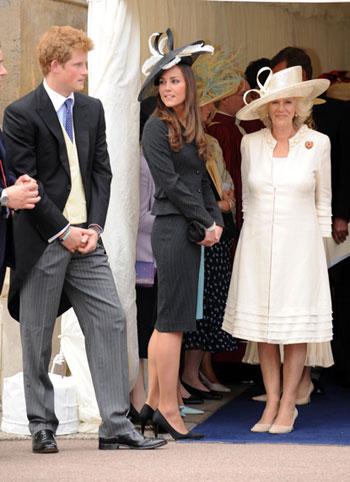 Kate Middleton has a head start on fulfilling her royal duties because she already dresses like a princess! While the stereotypical princess garb includes big poofy dresses, lots of embellishment and glass slippers, modern day princesses don't need all the frou frou to reign on the fashion front.
RadarOnline.com turned to personal wardrobe consultant and celebrity stylist Colin Megaro (Carrie Preston and Julie Benz are some of the leading ladies he has dressed!) for a few simple tips on getting Kate's princess-like look!
Article continues below advertisement
First and foremost, the style expert insists that a princess should never show too much skin!
"Midriffs, cleavage and too much skin are not acceptable when representing an entire country," Megaro asserts.
With such an honorable reputation to uphold, it is very important for a royal beauty to keep her assets under wrap. This isn't to say that she can't show any skin, but she has to keep to the overall look balanced and classy. For example, when Kate wears a dress, which is tight through the bodice, she always makes sure it is longer in length. When she wears a shorter or tighter skirt, she keeps her top half loose and covered up.
Secondly, a Princess should keep her wardrobe understated and appropriate for every event.
Kate knows that regardless of what she wears, all eyes are on her. She doesn't need to wear attention-grabbing fashion to be the focal point of any party. She is naturally the belle of the ball, so she doesn't need the frou frou of feathers, sequins and other embellishment that other girls have to wear to get noticed.
Article continues below advertisement
When it comes to makeup, a Princess should always look natural.
"A real Princess should never look like a Real Housewife," declares Megaro.
During the day, Kate always looks totally natural, while her nighttime look is only a tad more dramatic. You never see her rocking smoky eyes or bright red lipstick, because once again, she doesn't need to!
And a Princess always has perfectly manicured hands!
Clean nails, painted with clear, pink or blush polish are the only acceptable nail colors. A princess never indulges in the latest trends from neon to vamp, nor does she step out of the house with jagged-edged nails. It just doesn't look right!
Clothing should be classic timeless and elegant, because Colin contends, "A princess is part of history."
Kate rarely indulges in the latest trends, though sometimes incorporates them into her look in subtle ways. Whenever she wears patterns, she makes sure they are non-offensive (no skulls, graphic t-shirts, hearts, etc) and can last through the ages.
Finally, it is crucial that a Princess doesn't rely on one designer to create her look.
"Change up the designers," suggests Megaro. "You want your wardrobe to reflect your status, but also your ability to influence fashion and support up and coming designers, not just the large fashion houses."
RELATED STORIES:
STYLE EXCLUSIVE: Kate Middleton's Wedding Dress- All The Details!
SPECIAL REPORT: Prince William And Kate Middleton's Wedding‹What To Expect
Kate Middleton And Prince William's Wedding Will Be A Public Holiday