EXCLUSIVE: Imagine Buying John Lennon's Application For US Residency; Document Surfaces After 34 Years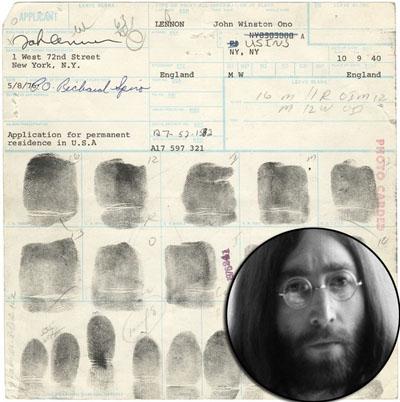 A rare piece of John Lennon memorabilia is making the rounds 30 years after The Beatles' death.
RadarOnline.com has obtained the never-before-seen photo of Lennon's application for permanent US residency card, and it will go to the highest bidder.
Dated May 8, 1976, the card contains Lennon's actual fingerprints on all ten of his fingers and his signature in the upper left corner, written in blue ballpoint pen.
Article continues below advertisement
The card is inside of a protective plastic bag covering that was taped shut and stamped up to four times: June 2, when the document was recorded, June 6 and August 25, 1976, and on the front, July 8, 1976.
VIDEO: Paul McCartney Sings "Michelle" For First Lady
The slice of Lennon, who would have been 70 on Saturday, is expected to fetch hundreds of thousands of dollars at auction, beginning Wednesday.
The online bidding war is taking place at www.gottahaverockandroll.com until October 15.
Known for his work as the legendary front man of The Beatles, Lennon was killed outside his NYC apartment on December 8, 1980, as his wife, Yoko Ono, looked on.
He was shot four times in the back and shoulder by 25-year-old security guard Mark David Chapman and died later at the hospital from his injuries.
His assassination triggered an outpouring of grief around the world.
Article continues below advertisement
Sales of his music - both from The Beatles and as a solo artist - skyrocketed in the months following the tragedy.
Chapman is currently serving a life sentence at Attica State Prison.
UPDATE: After RadarOnline.com's exclusive report, the FBI has intervened and blocked the item from sale.
A spokesperson for the auctioneer says, 'The item has been under investigation by the FBI because it is considered government property.'