Exclusive
Never-Before-Heard Lady Gaga Album Up For Auction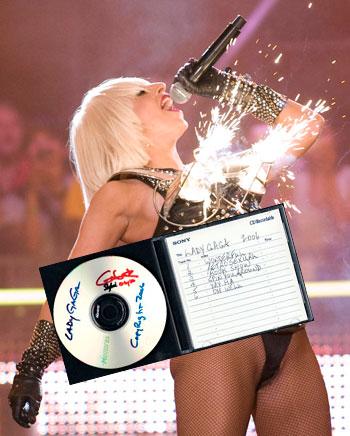 Never-before-released Lady Gaga demo CDs, along with a performance DVD from her days as Stefani Germanotta, are about to go up for auction, RadarOnline.com has learned.
Gaga's first manager, Bob Leone, is putting up for sale a hoard of rare Gaga memorabilia from his personal vault, including a never released 2002 original recording.
Gaga personally peddled the track to record labels in hopes of realizing her dream.
Article continues below advertisement
The four songs recorded on the CD are "Kisses are Quarters", "If Only", "Selfish Girl" and "In a Dream"; it has copyright of 2001 handwritten on the disk and "Copyright 2002" typed on the cover insert.
VIDEO: 'Meat Dressed' Lady Gaga Wins Top Award At MTV VMA's
Also printed is Lady Gaga's legal name, Stefani Germanotta.
Other Gaga items to be sold off include a performance DVD from the OSIA Showcase in 2006 at The Cutting Room in New York City and an EP from 2005 released as the Stefani Germanotta Band titled "Words".
One six-track demo from 2006 with a hand-written track-listing will also go under the hammer.
The songs include "Wonderful", "Retrosexual", "Rock Show", "Spin You Around", "Yay Ha" and "Oh Well".
The recording was produced by Rob Fusari, Gaga's ex former boyfriend and producer, who last month settled his $30 million lawsuit against the superstar.
The online auction is taking place at www.gottahaverockandroll.com from October 6 to 15.