Exclusive
EXCLUSIVE: Why Lady Gaga Refused To Tour With 'Grade-A Disaster' Kanye West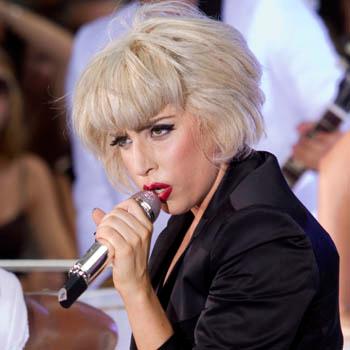 There's about to be a lot revealed about Lady Gaga in a new blockbuster biography about the Bad Romance singer that hits shelves on Tuesday, September 14 - and only RadarOnline.com has exclusive excerpts before the book's release.
Among the many interesting things about Gaga in Poker Face: The Rise and Rise of Lady Gaga is why she canceled her headlining tour with Kanye West last summer.
"He's a grade-A disaster, a mess. If his name is on it, no one will touch it," a source inside West's camp told author Maureen Callahan.
Article continues below advertisement
BIKINI PHOTOS: Lady Gaga In Saint Tropez
The combination of West's infamous 2009 VMA stunt with Taylor Swift and the threat of one of Gaga's top staffers, Anthony Randall, quitting if she proceeded with the tour led her to call it off.
According to Callahan, Gaga is exceptionally passive-aggressive and non-confrontational. One minute she'll praise a staff member and the next minute they're fired, not knowing why or what happened.
Gaga is described as a control freak who has allegedly fired over 150 people in the last two years.
Extremely driven to make it big in American with her first hit Just Dance, Gaga did hundreds of re-cuts so that virtually every radio station in the United States had a version with their call letters in the song.
Gaga's crazy image is actually a way to distract from her looks the book claims, saying they were openly discussed as a liability.
Article continues below advertisement
She was originally contracted with Interscope as a songwriter because she was "not pretty enough to be a pop star," which is why the Lady Gaga image was conceived.
As RadarOnline.com previously reported, Gaga hates to be alone and often beckoned her former assistant Angela Ciemny to snuggle and take showers with her.
An exclusive excerpt obtained by RadarOnline.com from the book further details Gaga's bizarre behavior and attraction to a former assistant, who happened to be wife an ex tour manager.
"In reality, says Angela, she wound up sleeping with Gaga more often than her own husband tour manager David Ciemny. She says there was nothing sexual about it; Gaga couldn't sleep without someone next to her in bed. Around the time Angela had been hired, Gaga and Matt Williams... had broken up... She kept Williams on her team, though, and kept things as professional as possible...For the most part, she struggled.
Article continues below advertisement
"Angela tried to help. She says she assumed an 'older sister' role with Gaga.... 'We literally...we would do our make-up together every morning and get ready for bed together at night,' Angela says. They'd also take showers together, she says, because they'd have so little time to get out the door in the morning. But it was also, she says, a way to bond.
"The few times Angela would start to go back to her and David's room at the end of a day, she says, Gaga would spiral. 'I would say, 'Gaga, I have a husband to go home to. I'll be in the room next door.' And she'd call and text me: 'I miss you Ange, can you come back?' And she would tell Dave, 'Can your wife please stay with me tonight?'