Exclusive
EXCLUSIVE INTERVIEW: Vogue's Anna Wintour Thought Lady Gaga Was 'Behaving Like A Childish Diva' Says Biography Author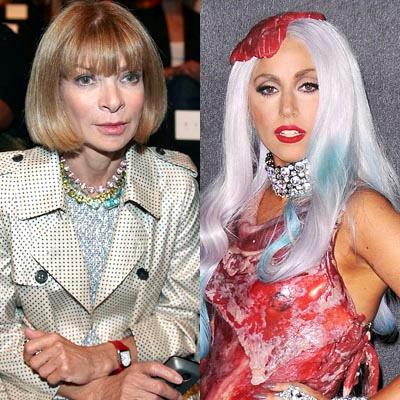 Lady Gaga's "childish diva" behavior doesn't fly with one of the industry's most notorious hot heads, Vogue's editor-in-chief Anna Wintour, and RadarOnline.com has all the details.
According to Maureen Callahan, author of the much-anticipated biography Poker Face: The Rise and Rise of Lady Gaga, the eight-time VMA winner performed in May at Wintour's Metropolitan Museum Costume Institute Gala, and the two did not get along.
Article continues below advertisement
"She Gaga sort of had a meltdown before she went on and as it was described to me, Anna was really none too pleased with her," Callahan told RadarOnline.com in an exclusive interview.
"Anna wasn't impressed. She thought that she was just sort of behaving like a childish diva and not the professional who was about to perform for her peers; these incredibly famous designers and celebrities," Callahan continued.
"She sequestered herself in the back room for a good hour. She was an hour late to perform and I also heard that she had been demanding things. She went to Anna at the last minute and was saying, 'I'd like it to be this way.'
"And Anna just said no. I don't think she's used to hearing that very often. When you're dealing with two egos like that, it gets interesting."
Article continues below advertisement
Wintour made an appearance on Late Night with Jimmy Fallon in September and addressed the incident saying, "We had Lady Gaga this year.
"She was communing with God and she was praying in the back, waiting for God to tell her it was alright to go actually onstage."
The Gaga biography hits bookstores Tuesday, September 14, and Callahan promises to give readers a sense of who the pop star icon is as a fully flushed out human being.
"Lady Gaga is everything she claims to be but also is nothing she claims to be. She is the biggest contradiction ever. She is the incredibly ballsy and bad ass girl who's also so lonely and hungry for affection that she'll employ someone to take naps with her and go to the tanning booth with her," Callahan said.
"She's incredibly smart with people and at the same time has bruised a few people along the way. She's this avant-garde provocateur who is also just a nice Italian Catholic girl from the upper-west side.
Article continues below advertisement
"She's one of the biggest pop stars in the world and she accomplished it in an incredibly short span of time so she's now in a position where everyone else in the industry is trying to play catch up to her. She's light years ahead of everyone. You will never figure out where she's going next."
Lady Gaga may be a diva, but Wintour is also widely known for her no nonsense style; she was said to be the inspiration for Meryl Streep's character in the hit movie, The Devil Wears Prada.