Lady Gaga Stirs Controversy Over Raw Meat Photo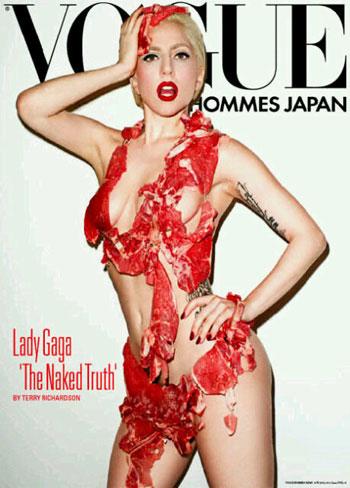 Lady Gaga's latest outfit is one you can sink your teeth into, literally.
The pop superstar is wearing nothing but strategically-placed hunks of raw meat on the cover of September's Vogue Hommes Japan. RadarOnline.com has learned that the image is already sending shockwaves through the animal rights community.
EXCLUSIVE: Man Having Sex Change Operation To Look Like Lady Gaga
PETA President Ingrid Newkirk said in a statement that she was not amused by the singer's antics.
Article continues below advertisement
"Oh, Lady Gaga's job is to do outlandish things, and this certainly qualifies as outlandish because meat is something you want to avoid putting on or in your body."
The Paparazzi singer, 24, is certainly no stranger to controversial outfits. The Catholic school graduate recently donned a nun-inspired get-up onstage and is known for her over-the-top, often risque, look.
RELATED STORIES: