Celebs Voice Support Of Prop 8 Being Overturned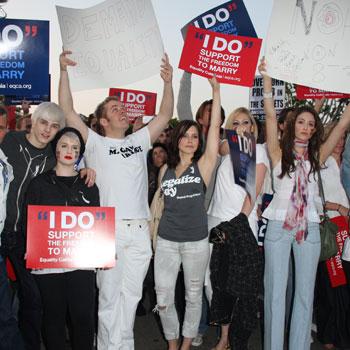 Chief U.S. District Judge Vaughn Walker overturned Proposition 8 on Wednesday ruling the ban on same-sex marriage as unconstitutional.
In a huge victory for California's LGBT community, Walker ruled that the ban violated the Constitution's equal protection clause under the 14th Amendment.
"So happy over the news on prop8 its about time!" Kelly Osbourne Tweeted just moments after the ruling was made.
Article continues below advertisement
"This just in: Equality won!" The Ellen DeGeneres Show Tweeted.
Kim Kardashian wrote, "Prop 8 was struck down! This news is amazing!!!! Its about time! Congrats to everyone!"
"Tonight we celebrate! EQUALITY and LOVE for all!" gay rights activist Shanna Moakler Tweeted.
California Governor Arnold Schwarzenegger released the following statement Wednesday after Judge Walker turned Prop 8:
"For the hundreds of thousands of Californians in gay and lesbian households who are managing their day-to-day lives, this decision affirms the full legal protections and safeguards I believe everyone deserves. At the same time, it provides an opportunity for all Californians to consider our history of leading the way to the future, and our growing reputation of treating all people and their relationships with equal respect and dignity.
"Today's decision is by no means California's first milestone, nor our last, on America's road to equality and freedom for all people."
Entertainer Adam Lambert wrote, "We're gonna throw glitter on this barn tonight!!!" when news emerged of the Prop 8 verdict.
"Congrats on the overturning of Prop 8!!!!" Lance Bass wrote.
Ellen DeGeneres Quits After One Season On American Idol
"Judge rules Prop 8 is unconstitutional! Decision allows Gay Marriage in California!" singer Jason Mraz Tweeted.
Article continues below advertisement
Alyssa Milano, Pink, Sandra Bernhard, Rose McGowan, Lisa Bloom, Elizabeth Banks, Clementine Ford, Tabatha Coffey and many other notable names voiced their support of Proposition 8 being overturned.
The decision to overturn Prop 8 was chronicled within 136 pages with this statement being critical:
"Proposition 8 fails to advance any rational basis in singling out gay men and lesbians for denial of a marriage license. Indeed the evidence shows Proposition 8 does nothing more than enshrine in the California constitution the notion that opposite sex couples are superior to same sex couples."
UPDATE: In an exclusive interview with RadarOnline.com, legal powerhouse Gloria Allred expressed her delight over the ground-breaking ruling.
"This is an historic day. The decision was a courageous one and I'm proud of Judge Walker who made it. He conducted a trial which proves the harm that loving gays and lesbians suffer when they are denied the right to marry - the right that others are permitted to enjoy solely on account of their sexual orientation.
"This case will now be appealed to the 9th U.S. Circuit Court of Appeals, and the United States Supreme Court will make the ultimate decision on Proposition 8," she explained.
Allred went on to say: "This may be a temporary victory but it's sweet. I hope that no stay will be granted because I know what it means to gay and lesbian couples who wish to marry and I agree that they suffer irreparable harm for every day they are denied that right."