Exclusive
EXCLUSIVE DOCUMENTS: Woman Who 'Discovered' Lady Gaga Suing For Her Share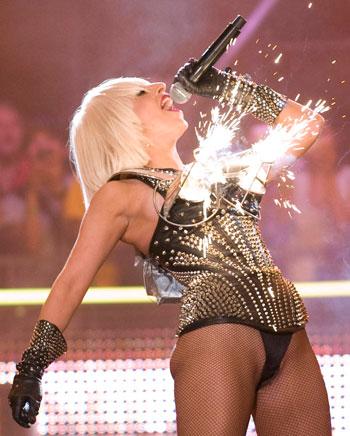 Lady Gaga's ex-boyfriend and former producer has been slapped with a civil lawsuit by a woman who claims she discovered the pop icon.
EXCLUSIVE DOCUMENTS: See Wendy Starland's Lawsuit Against Rob Fusari
Singer-songwriter Wendy Starland alleges that while collaborating with Rob Fusari in 2005, she was told to find "a unique female singer, under the age of 25, who could be the female equivalent of the lead singer of the band 'The Strokes.'"
Article continues below advertisement
According to the documents, Starland entered into an oral agreement with Fusari for an equal share "in any revenues earned as a result" in finding such a talent.
Enter Lady Gaga, at the time known by her birth name Stefani Germanotta.
Starland claims she discovered Gaga in March of 2006 during a performance at The Cutting Room in New York City and introduced her to Fusari which resulted in the two pursuing a record contract together – and a romantic relationship.
VIDEO: 'Meat Dressed' Lady Gaga Wins Top Award At MTV VMA's
"After the signing of the contract with the major record label, Starland began asking Fusari to share the revenue that would begin to result from his relationship with Germanotta," the lawsuit states.
However, since the lawsuit was filed on September 24, Starland claims she has yet to receive any compensation from Fusari, who no longer works with or dates Lady Gaga.
Article continues below advertisement
A jury has been demanded for the case and Starland is seeking "an amount in excess of $75,000" including "one half of Fusari's profits, including future profits."
Fusari claims to have co-written four songs on Lady Gaga's widely acclaimed album The Fame including the mega-hit Paparazzi.
As RadarOnline.com was first to report, Fusari launched a $30.5 million lawsuit against the pop superstar claiming he was denied a 20 percent share of her song royalties.