Lady Gaga Pushes For Repeal Of Don't Ask Don't Tell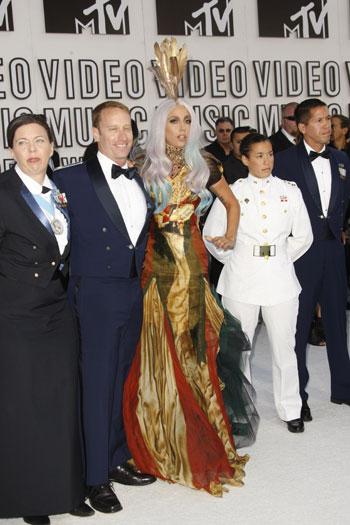 One day after publicly thanking the gay community at the MTV Video Music Awards for all its support, the Poker Face singer turned her web site, ladygaga.com, into a full-page billboard for the repeal of Don't Ask Don't Tell.
If you click onto her site, you'll find a photo of Gaga posing Sunday with her 'VMA dates' - several military personnel impacted by the military's ban on openly gay servicemen and women.
Article continues below advertisement
Gaga's web site also redirects users to site for the Servicemembers Legal Defense Network, which provides legal services to gay service members.
An SLDN spokesman said the organization had prepared for one million extra page views Monday morning channeled through Gaga's site.
BTW -Lady Gaga picked up eight awards Sunday night, including the top prize - best video - for her smash hit Bad Romance.