VIDEO: Paul McCartney Singing "Michelle" A Dream Come True For First Lady, President Says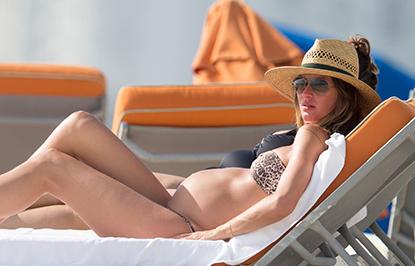 Pres. Barack Obama told Larry King Thursday that Paul McCartney's serenading of First Lady Michelle Obama with the Beatles' classic "Michelle" during a tribute concert at the White House this week stands out as one of his wife's greatest thrills since he took office.
Watch the video on RadarOnline.com
"I saw you singing to Michelle last night with -- with Paul McCartney," King said. "That was a pretty nice kick, huh?"
Article continues below advertisement
Obama replied: "Let -- let me tell you, the -- I think that was one of the highlights that Michelle's had, is when Paul McCartney sings 'Michelle.' To her, you know -- when she was a little girl growing up on the south side of Chicago, I suspect she didn't think that was ever going to happen."
VIDEO: Beatlemania Overtakes The White House
McCartney, who repeated "I love you" to the first lady throughout his performance Wednesday night, later joked he could be the "first guy ever to be punched out by a president" for the harmless display of flirting.
McCartney was on hand to collect the Gershwin Prize from the president; past recipients of the prestigious award include Stevie Wonder and Paul Simon.