Yolanda Foster Lectures Worker: 'You've Got To Learn English!'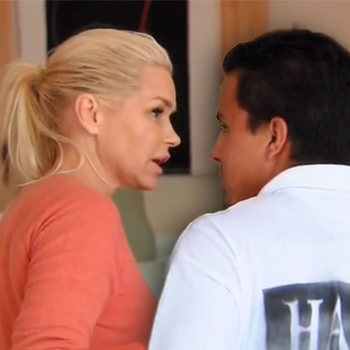 While she meant well, Yolanda Foster provided one of the more cringe-worthy moments on The Real Housewives of Beverly Hills Monday, telling a laborer, "You've got to learn English!"
Listen! 'RHOP' star Wendy Osefo breaks down the "most intense fight in the show's history" in under 2 minutes.
The Dutch model was supervising movers as they assembled the interior of her ex-husband Muhammad Hadid's mansion, as the exes, who have three children together, are on good terms.
Article continues below advertisement
"Muhammad and I were married for seven years," Yolanda explained of her relationship with the real estate developer. "After the divorce, my focus was always to keep Mohammed close and keep him involved in the lives of my children, because at the end of the day, it was really about how my children felt about their daddy."
While overseeing a group of laborers assembling a heavy table, Yolanda, feeling out of the loop, told the gentleman closest to her, "You've got to learn English!'
The Holland-born beauty gently grabbed the man's shoulder and shared with him her own story as an immigrant trying to grasp the native tongue.
"You're in America now - they speak English here," Yolanda told the man. "You know when I come to America, I don't speak no English, and all I know how to say is 'Please' and 'Thank you,' 'Yes,' 'No.'
"But every night before I go to sleep I studied - so you do the same."
Article continues below advertisement