Kim Richards' 'Sobriety Party' Filled With Too Much Boozing, Complains Yolanda Foster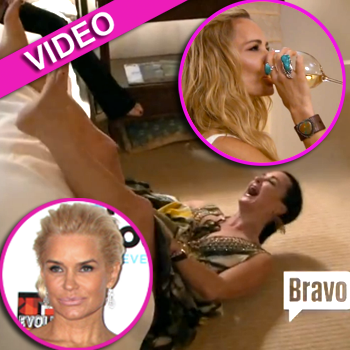 In a new Bravo blog, Yolanda Foster wonders why her castmates boozed up in front of her and recovering alcoholic Kim Richards during their recent excursion to a luxury spa in Ojai, California, especially since Kim arranged the trip to celebrate her sobriety.
Yolanda, a former model who's steering young daughter Gigi down the same path, said she did not drink on the trip because of a holistic therapy procedure (involving lamb cells) she underwent in Europe linked to extreme joint pain and a longtime back injury. Part of the treatment, she said, was to avoid alcohol for three months, and she had not yet hit that milestone during filming of the Ojai trip -- not that it stopped her castmates from filling their cups!
Article continues below advertisement
"Anyway, I came here to support Kim and celebrate her sobriety so out of respect to her, maybe we should have scratched the alcohol for the weekend?" Yolanda wrote, noting she was "kind of annoyed" with castmate Kyle Richards for engaging in the revelry with her vulnerable sister around.
Yolanda specifically criticized Kyle for "not backing up and supporting her sister who just came out of rehab and would most likely appreciate Kyle taking this precious time to reconnect with her.
Article continues below advertisement