Exclusive
EXCLUSIVE INTERVIEW & PHOTOS: NYC Housewife Sonja Tremont-Morgan Writing Toaster Oven Cookbook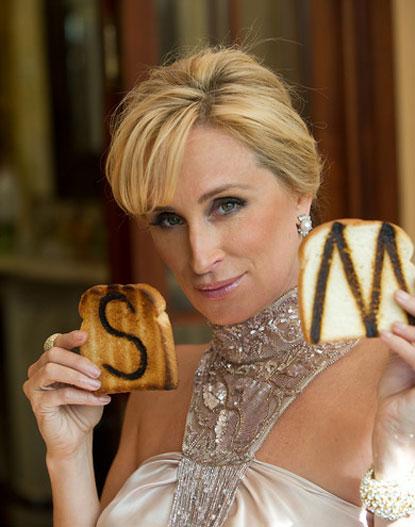 The Real Housewives of New York City star Sonja Morgan-Tremont will soon be proving that she's more than just a pretty face.
The single mom is writing a cookbook for all the fast-paced ladies of the city on a budget -- with quick and easy recipes for the toaster oven -- and RadarOnline.com has all the details and photos.
"It's very exciting. It's really attractive to the young girls who live in the city who ask me, 'How do you do it'?" Sonja told RadarOnline.com in an exclusive interview.
Article continues below advertisement
"They said, 'You cook in a toaster oven?' So people started asking me if I they could have my toaster oven recipes." She keeps her recipes on cards stored away in her kitchen, Sonja says.
Sonja revealed that she has interested publishers and promises the cookbook will be hit shelves in six months. And although she's writing the book herself, she added that she's getting a little help from notable friends like acclaimed writer Steven Priggé.
"With my mouth, I'm not short on material! It's more than a cookbook, it's a lifestyle book," she laughed.
"Everything is very healthy. I'm body conscious... and nowadays we live longer. We want to look good longer and we want to be relevant, so I have to have healthy food and need to be able to do it quickly. The way to do that is either with a crock pot, a blender or a toaster oven!"
Even during her globetrotting days, the toaster came quite in handy -- even when serving royalty!
Article continues below advertisement
"I use it from my daughter to boyfriends and the plumber to a visiting dignitary to royalty... anyone!" she admitted.
"I did roasted garlic out of the toaster oven for Count Volpi of Venice and when I entertained at my home in the South of France I cooked bruschetta and beets with goat cheese. Everything is so much quicker in the toaster oven."
And her Housewives co-stars love what Sonja calls The Model Meal.
"I had Luann de Lesseps and Kelly Bensimon over and I made my mom's broiled white fish with a small pat of butter and milk and steamed asparagus all in the toaster oven. And it's all about portion control.
"They're very supportive and very surprised that I could serve a gourmet meal like that," Sonja said. "They loved it... and I got all fancy on myself and instead of using one of the cheaper white fish I got filet of sole and it shrunk down to nothing," she laughed. "Even after 20 years of experience I try to take it to another level for the Countess and I foiled myself!"
Article continues below advertisement
What are her toaster oven favorites? For the kids, chicken parmesan, and for her, London broil.
And although she's keeping the title a secret for know, the cookbook will reveal a snapshot of Sonja's real lifestyle.
"People always want to know how I live, how I set my table, what my dining room looks like, who I have over, and they want to see my house."
And the recipes are sure to be guy-friendly too.