Exclusive
EXCLUSIVE: Real Housewife Countess Luann de Lesseps Gives Dating Tips For Single Moms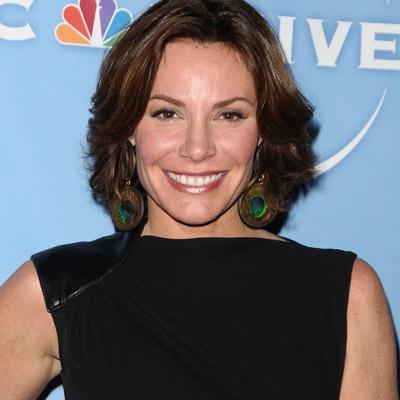 With more and more Real Housewives' marriages falling apart, they may just want to check in with Countess Luann de Lesseps, from the New York City show, for some advice on rebuilding their lives.
The 45-year-old former model has weathered a painful, and public, divorce and had to learn how to juggle a busy, successful career with the demands of being a single mother.
Luann was married to Count Alexandre de Lesseps, who was born into French aristocracy, for 16-years, and the couple have two children together, Victoria 16 and Noel, 14.
Article continues below advertisement
They divorced in 2009 amid reports that the Count was having an affair -- something she later confirmed to People magazine -- recalling a shocking email she received from her husband: "It said that he had met someone and they were serious."
The beautiful socialite has since moved on and is now happily dating a new beau -- sexy, French wine distributor, Jacques Azoulay.
The Countess' experience has taught her a thing or two about readjusting to life, and dating again, as a new divorcee, and she shares some of her tips exclusively with RadarOnline.com.
When it comes to working out the right time to begin dating after a divorce, Luann says she believes it is a personal decision and that it is different for every single mom.
Real Housewives of Atlanta Star Ashley Jewell Killed In Bar Brawl
"The first step is sharing with your children that you are ready to begin dating," she says. "Some children become anxious when their newly single parent starts seeing other people. Your children need extra reassurance that you are there for them.
Article continues below advertisement
"When I realized that I cared very much for Jacques, I slowly introduced him into my life and gradually included him in family when I felt that the time was right.
"It is important to balance your social life with your family life so that your children feel secure. Make special time for your child that does not include your new beau.
"I reserve nights just for Noel so that we can have dinner together and go to movies so that he has one-on-one time with me. Victoria's favorite thing to do with me is to have lunch together where we talk about girl stuff and bond.
"I suggest that people wait to introduce their children to the person they are dating until the relationship is on secure ground, which can take months. I waited until I knew that Jacques was a keeper and I waited until the time was right before I introduced him to my children.
"Children need to know that you are there for them regardless of what is happening in your personal life. My children understand that they always come first and I make sure they understand this so that they feel secure enough to spend time with the new person in my life."
Article continues below advertisement
And, wisely, Luann advices to keep the intimate details of your relationships private from your children. "Keep your relationship details between you and your girlfriends," she says.
"Your children are not your confidantes! Children are not mature enough to handle the details of relationships and you should not assume that they are."
Season four of Real Housewives Of New York City, premieres on Bravo on February 15.