Exclusive
EXCLUSIVE: Countess Luann de Lesseps' Advice To Kate Middleton: 'Think Twice Before You Speak'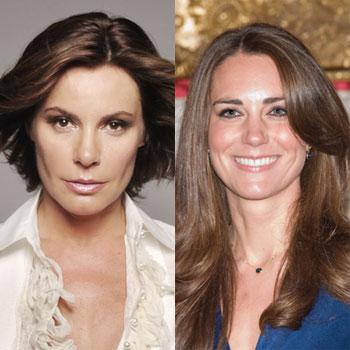 If anyone knows best what it's like to be thrust into a world of wealth and aristocracy, it's reality royal herself Countess Luann de Lesseps, who has a few words of friendly advice for England's princess-to-be Kate Middleton.
The Real Housewives of New York City star has coached fans with her etiquette expertise since penning her bestseller Class with the Countess. She also has a the hit song, Money Can't Buy You Class, under her belt and has rubbed elbows with the King of Greece!
Article continues below advertisement
"I think she (Kate) should stay true to herself and be her own person and have good mentors. I'm sure the queen would be delighted to help her," the Countess said with a laugh as she spoke exclusively with RadarOnline.com. "Charm is key and being warm and endearing is really looked upon as a very positive trait."
She also passed along another suggestion to the 28-year-old brunette beauty: "I think you have to think twice before you speak...twice or three times, especially going into the arena that she will be going into. She's not a wallflower and she has a lot of personality and enjoys joking around and having fun and I think that is something on occasion she might have to watch out for."
For 16 years, the Countess was married to Count Alexandre de Lesseps, who was born into French aristocracy. His great-great-great grandfather, Ferdinand de Lesseps, built the Suez Canal and started the Panama Canal, later presenting, for France, the Statue of Liberty to America.
Even though they recently divorced, which viewers saw a hint of on the popular Bravo show, when the Countess heard news of the young royals' engagement, it brought back happy memories - and a comparison to the beloved Princess Diana.
Article continues below advertisement
"It's almost as exciting as the day I got married!" the Countess boasted. "I think it must be very exciting for her...I was the same age so I think she's coming to the table a little more experienced. She's not a wallflower, she has a great personality and she enjoys a good joke! And I think she's somebody who's comfortable with who she is.
"I had a career before I married the Count and I was working and very independent and I think that brings a lot to the table. I think people will compare her to Princess Di, but I think she's a lot different than Di...and I think she's willing to learn and work hard to fill those shoes."
The Countess added that for her going from a relatively normal upbringing to a life of riches and responsibility was all about the learning curve.
"It's about observing other people and having great mentors and learning as you go along. It's a learning process and one that obviously she's willing - she said yes!. That's how I learned...and I think she's been at it for awhile and I think she comes from a good family and she grew up with a close knit family and I think that's key.
Article continues below advertisement
"I grew up in a big family as well and I think that helped me kind of navigate in the world and learn how to navigate with people and I think that experience she'll take with her into this next part of her life."
And Kate may be surprised at just how not "uptight" the monarchy is, which might come as a shock to the outside world.
"I was really surprised at how relaxed and easy going they really are. It's we who think that the monarchy and aristocracy is really uptight and they're really not!" she confessed. "That is what really sticks out in my mind and was really surprising to me. At the end of the day, they really love a good joke."
The Countess has even had a run-in with the future King of England eight years ago at a royal baptism, and it was just around the time he met Kate.
"I went to the baptism for the son of Princess Marie-Chantel, who married the King of Greece's son Prince Pavlos, and Prince William was the godfather. So it was at the Claridge in England and I was invited as a friend and I was sitting next to the King of Greece," the Countess remembered. "And I walk over to the table and he happens to seat me by him all the time at various occasions and my husband was like 'I can't believe the King has you next to him at this event with all this protocol.' Princess Stephanie was there and Caroline from Monaco. And the King said to me, 'I'd like to introduce you to my sister' and over walks the Queen of Spain and I didn't realize that the Queen of Spain was his sister! So I didn't know what to do-curtsey or kiss her hand and she reached her hand to me and pulled me towards her to give her a kiss on the cheek. Most of the time it's the lady who extends her hand and how she would like to be greeted and I was amazed at how personal and personable she was with me."
Article continues below advertisement
And she had lasting impressions of the young prince: "He's such a lovely young gentleman. Very personable and very polite. And totally relaxed."
According to the Countess, she believes England's soon-to-be princess is fit to be queen.
"I think she radiates confidence and charm and I think she's elegant and stylish and tall and beautiful. And she comes from a good education so I think she has everything it takes."