Exclusive
EXCLUSIVE INTERVIEW AND PHOTOS: NY Housewife Jill Zarin Creates Bedding Line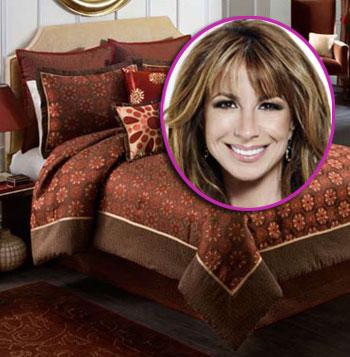 Real Housewives of New York star Jill Zarin has been called one of the busiest housewives around.
Even with her reality show, her many charities, her fabrics business and now her brand new luxurious bedding line, Jill found some time to speak exclusively to RadarOnline.com about her brand new endeavor and plans for the future.
"I am really excited it," Jill told RadarOnline.com exclusively.
"It's a natural extension of Zarin Fabrics and I have always wanted to do custom bedding."
Article continues below advertisement
Jill's line has four styles of comforter patterns that were given names, one of which she named after her daughter Allyson.  But Jill would like to add four more options and name them after her fellow housewives.
"I thought it would be cute to have one named after LuAnn de Lesseps "The Countess" and another after Alex so on...It would be great to make one for each."
The wealthy New York socialite wanted to make her bedding affordable so that customers could get a look similar to hers that didn't leave them broke.
"I created a luxurious decorator look that won't cost you. For under $200.00 plus pillows, it looks like $3000.00 worth of bedding because I make it overseas and you get value for your money."
Jill didn't only make this bedding line for herself - profits from the bedding go to a good cause.
"Just as I did with my book Secrets of a Jewish Mother, profits that I make from the bedding line go to charity."