Exclusive
EXCLUSIVE PHOTOS: NYC Housewife Countess LuAnn De Lesseps' Daughter's Sweet 16 Party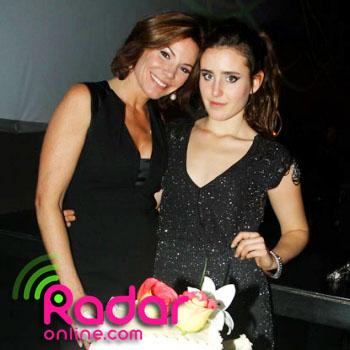 It was a night to remember for the daughter of Real Housewives of New York City star Countess LuAnn de Lesseps who turned Sweet 16 over the weekend and celebrated the milestone with a frost-themed birthday bash.
"It was really cool!" birthday girl Victoria told RadarOnline.com exclusively. "Everything was such a surprise."
Over 100 family and friends joined the Countess and Victoria at Arena in New York City, and enjoyed music by DJ Chris Young (who produced the Countess hit song "Money Can't Buy You Class"), non- alcoholic 'mock-tinis', a fire eater, ice sculptures and more.
Article continues below advertisement
"The fire eater was so impressive and there was aerialist hanging over the ceiling! And a violinist played to the house music," gushed Victoria.
Any birthday wouldn't be complete without the cake -- only this one was decorated with roses and bright sparklers. And winter in New York City just wouldn't be the same without a few snowflakes – inside!
"The best part of it was it snowed inside!" Victoria said.
While Victoria was entertaining her friends, the Countess also enjoyed the festive atmosphere alongside her boyfriend Jacques Azoulay (CEO of Gabriella Wines Importers) and co-stars Jill Zarin and husband Bobby, Kelly Killoren Bensimon, and new Housewife Cindy Barshop – all of whom danced the night away. And the one who lasted the longest on the dance floor was Victoria's 81-year-old grandmother (and the Countess' mom) Rolande Nadeau!
Article continues below advertisement
So what did Victoria get on her big night? What every teenager loves: "Clothes! And my mom brought me back a beautiful handmade bag and jewelry from Morocco." (Where all the Housewives recently traveled on a girls' trip, as reported first by RadarOnline.com.) "I still haven't opened all the presents!"
And even though Victoria already has a car, there's still one thing left on her birthday wish list – her driver's permit.