Exclusive
EXCLUSIVE: BH Housewife Taylor Armstrong Says Camille Grammer 'Doing Surprisingly Well'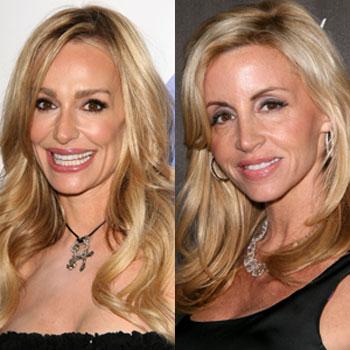 Through all the emotional ups and downs showcased on the Real Housewives of Beverly Hills, all the ladies of 90210 know what it's like for their private lives to become public- none more than Camille Donatacci, who's estranged husband Kelsey just got engaged after their marriage disintegrated while cameras were still rolling. But her co-star Taylor Armstrong has lent a supportive ear during these trying times and she tells RadarOnline.com that right now Camille is focusing on her kids.
Article continues below advertisement
"Camille and I have a very nice relationship and she's a very strong woman. She's dedicated to helping her children through this tough time," Taylor told RadarOnline.com exclusively at Sweet E's Bake Shop where she hosted a holiday cookie decorating party for her daughter Kennedy.
"These kids have been through a lot and for it all to be playing out in the press is a heavy load on a couple of small children so Camille is right there for her kids and focused on that. I really respect that she's keeping her head on and moving forward and she's not going to let this deter her from living a happy life."
After talking to Camille since news of Kelsey's engagement to his new girlfriend Kayte Walsh broke on Monday, Taylor added, "She's doing good. She's doing surprisingly well. She's a really strong person."
She continued, "I think that she has such a strong network around her. I just said 'I'm here for you if you need an ear.' Other than that, she's doing a great job."
Camille, the actor's third wife, filed for divorce in July citing irreconcilable differences. The divorce has yet to be finalized.
Article continues below advertisement
Beverly Hills Housewives Reunite For Dog Charity
Given the hardships Camille has had this year, Taylor is still confident that if the popular Bravo franchise comes back for a second season, Camille will too.
"Camille is definitely strong enough to come back. I have no doubts about that."
As for whether or not Taylor will return, she said she would "likely" sign on again if asked.
"I think if they do offer us a season two there are a lot more aspects to each of our stories," Taylor said. "So I think by the end of this season people are going to be left wanting more…there are definitely layers to each of the women that will become evident as the season progresses. I think you're going to see each of us struggle at times and succeed at times and those things don't end after one year. I mean, our lives are progressing, our children are growing older, our relationships are growing stronger with one another and so as we get closer then there's also more opportunity for joy."