Exclusive
EXCLUSIVE: NY Housewife Sonja Tremont-Morgan Wants To Launch Dress Line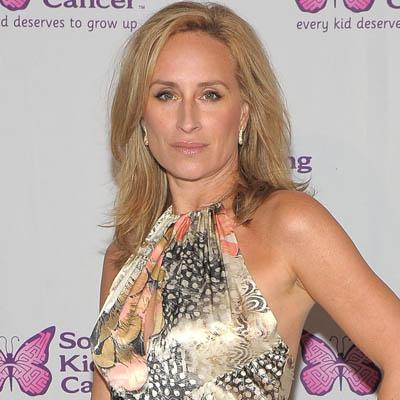 Real Housewives of New York star Sonja Tremont-Morgan wants to share her Manhattan high-class style with the budget fashionista, and RadarOnline.com has all the exclusive details of the dress line she hopes to launch.
"I want to do special occasion dresses that everyone can afford and will never go out of style," Morgan told RadarOnline.com exclusively. "They wouldn't be expensive but elegant and you can dress them up with a good pair of shoes and jewelry."
Article continues below advertisement
Morgan, who filed for Chapter 11 bankruptcy protection in November, was once married to John Morgan, a great-great grandson of the American financier John Pierpont Morgan.
According to her bankruptcy petition, Morgan listed nearly $19.8 million in debt and $13.5 million in assets with a monthly income at about $26,000, adding, "I expect this income to improve as new opportunities materialize." This may be that opportunity: she will share socialite style secrets, which given her posh background, surprisingly and wonderfully include frugal fashions.
"I've gone to a lot of fancy dinners with royalty and with the Churchills and Prince Albert, and I can't keep going out and buying dresses, and I don't have time to borrow dresses.
EXCLUSIVE INTERVIEW AND PHOTOS: NY Housewife Jill Zarin Creates Bedding Line
"One of my secrets is that I would run over to Bloomingdales with my girlfriends and we would go to the prom and wedding sections and you get fabulous dresses for $150 - $200, some even with accents like fur trim and they're very elegant with low cut décolletage. And with jewelry and a great pair of heels you look just as good as someone wearing Valentino.
Article continues below advertisement
EXCLUSIVE INTERVIEW & PHOTOS: Sneak Peek At OC Housewife Alexis Bellino's New Clothing Line
"When you're wearing Valentino or Dolce & Gabbana people know it, and when you're wearing what I'm talking about they're not quite sure what you're wearing but they think it looks great," she said. "The dress is just part of the package."
And any line she puts her name on would be jet-set proof.
"I am the queen of packing one bag for 10 days to Europe. I know how to pack a dress that you can wear more than once and people don't even know you wore it again. The dress has to be really flattering to make you look good rather than the dress wearing you. That's my key thing."
The line will be "very packable" she promises. "They wouldn't wrinkle. Something you can wear from Palm Beach with pearls to Telluride with boots and shearling to St. Tropez with crystal beads and silver sandals that's stylish, flattering and inexpensive. Not too elaborate so you can wear it more than once.
"I have a lot of great dresses that I can only wear once a year. These will be multi-functional."