Exclusive
EXCLUSIVE PHOTOS: Jill Zarin Reunites With New York Housewives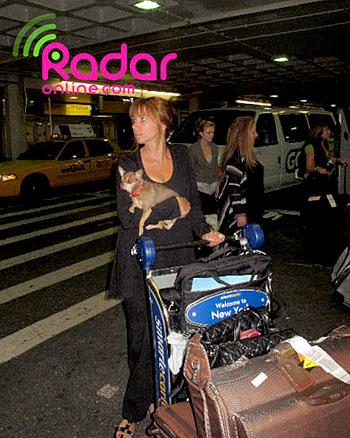 Jill Zarin flew into New York City after a whirlwind trip to Australia and wasted no time hooking up with some of her The Real Housewives of New York castmates to dish about what has been going on.
RadarOnline.com has all the photos and details of what the feisty red head has been up to since her return to the Big Apple.
"There were tons of camera men and photographers snapping Jill as she ran towards Ginger (her pocket pooch) who someone brought to the airport to greet her," says a source about the scene of her arrival at JFK Airport.
Article continues below advertisement
"She was really nice and signed autographs and talked with fans."
"I had a lovely time with my husband in Australia but very happy to be back home. I really missed Ally, Ginger and New York City," Jill told RadarOnline.com.
Zarin was spotted with a camera crew in tow at an upper east side restaurant Thursday reuniting with Kelly Bensimon and Countess Luann.
"The ladies looked gorgeous," said a source at the restaurant. "It didn't seem like they were fighting at all."
Zarin has been seen filming at the Marriage Equality March on September 26 and at an event in the Hamptons.
When asked if she was excited about filming season 4 of The Real Housewives of New York Jill replied, "I can't comment about that, but I am sure Bravo will make an official announcement in the very near future."
RELATED STORIES:
NY Housewife Kelly Benisom Does Cartwheels