Exclusive
EXCLUSIVE PHOTOS: NY Housewife Sonja Tremont-Morgan -- Before She Was Famous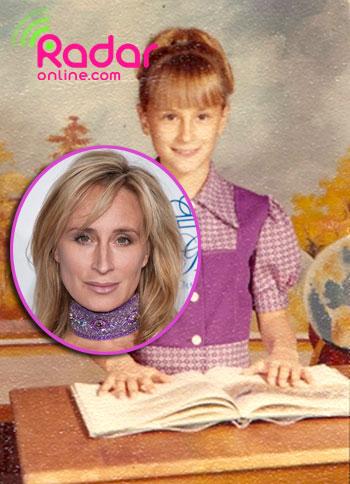 From high school to high society, NY Housewife Sonja Tremont-Morgan has always had a keen eye for fashion, and RadarOnline.com has the exclusive childhood photos to prove it.
Having once been married to JP Morgan's great-great-grandson, the reality TV star is used to living in the lap of luxury and from an early age her love of all things grand and gorgeous was apparent.
In one old-fashioned photo, fashionista Sonja, stands alongside a pony. When asked about the cute picture, the one thing that stood out to her was her outfit.
Article continues below advertisement
"This was my first pony, he was called Mr. Ed," she told RadarOnline.com exclusively. "I love the outfit of course. Great jeans, tank top and necklace. I think my hair is really cool too."
Included in the album is a photo of her driving her father's pick-up truck, wearing a pair of "fashionable hoop earrings," while another shows a teenage Sonja channeling Madonna.
"Look at that red outfit with the red scarf," she remarked. "I was clearly in my 'Like A Virgin' Madonna days. The look was completed with that red belt and metal accents. That's very funny.
"I was obviously very into her because check out the lace gloves in my college graduation picture too."
In a funny twist, Sonja's sepia tone baby picture bares a striking resemblance to one of her wedding shots, even if she was happier with her hair on her big day.
"When I was a baby my mom always did things before picture day, including pin curls, haircuts, the whole gamut," she said. "She also cut my bangs herself too. Thanks mom."
Article continues below advertisement
Sonja recently revealed to RadarOnline.com that she wants to launch her own dress line that will help other woman be as well-dressed as she is-even if they are on a budget!
"I want to do special occasion dresses that everyone can afford and will never go out of style," she said. "They wouldn't be expensive but elegant and you can dress them up with a good pair of shoes and jewelry."
RELATED STORIES: