Brandi Glanville Tweets Thanks To 'A Certain Someone' For Boosting Her Book Sales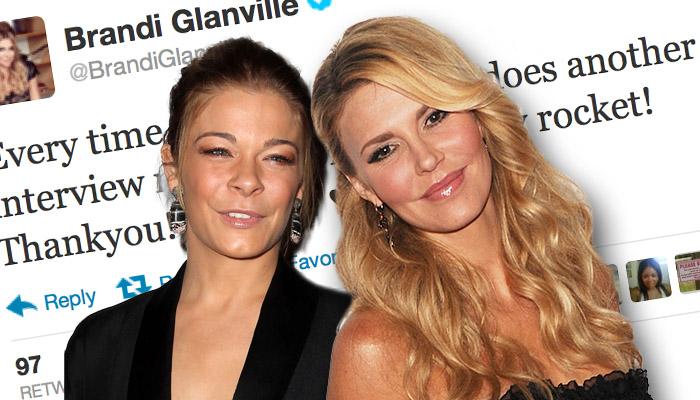 Brandi Glanville has tweeted a sassy backhanded message of thanks to LeAnn Rimes just one day after the country singer accused her of using their Twitter feud to boost her career!
Less than a month before her memoir Drinking and Tweeting: And Other Brandi Blunders hits bookshelves the 39-year-old mother-of-two THANKED her love rival for boosting her pre-sale figures.
On Friday The Real Housewives of Beverly Hills wrote: "Every time a certain someone does another interview my book pre-sales sky rocket!
Article continues below advertisement
"Thank you! #Career."
Her sarcastic comment comes after Rimes spoke to Entertainment Tonight about her fiery relationship with her husband Eddie Cibrian's ex-wife.
As RadarOnline.com previously reported the How Do I Live singer told ET she thought Granville was using the social media site – and her public argument with the hit maker – as a way to boost her career.
The latest round in their war of words erupted last year when Rimes referred to her stepsons as "my boys."
On her Twitter page Glanville accused the country crooner of getting "under my skin by calling MY children 'her boys'. Sooo transparent."
But Rimes said the reality TV star's words were a blatant attempt to boost her career. She said: "The transparency is what's being used to actually continue her career with that tweet."
RELATED STORIES:
LeAnn Rimes Made Her Own 'Angelfish' T-Shirt To Mock Brandi Glanville Nickname