LeAnn Rimes Accuses Brandi Glanville Of Using Twitter War To Push Her Career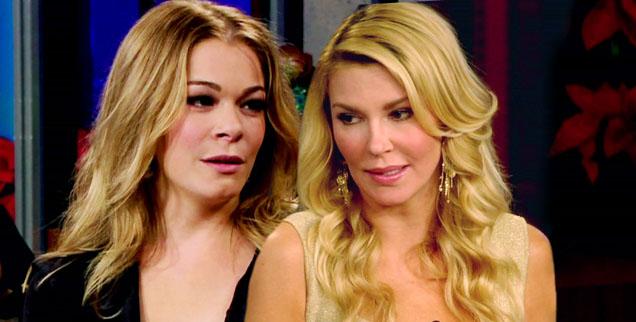 It's a constant war of words between LeAnn Rimes and Brandi Glanville, and now the country singer is taking their feud to a whole new level by accusing Brandi of creating Twitter rants to further her career!
"The transparency is what's being used to actually continue her career with that tweet," Rimes, 30, told Entertainment Tonight about The Real Housewives of Beverly Hills star raging about her referring to her stepsons as her sons.
Article continues below advertisement
"That's the transparency for me. Sorry, if you want to be real honest, I'll be real honest. It's pretty ridiculous."
The drama unfolded last month when LeAnn wrote on her Twitter page: "Flying out with my boys in a few hrs."
Brandi, 39, soon tweeted: "Someone is trying 2 get under my skin by calling MY children 'her boys'. Sooo transparent!
"They R MY boys, Eddie's Boys and ur step-sons…4 now."
Rimes also told ET she viewed the Twitter feud with Brandi as a "very one-sided war."
Brandi and LeAnn's current husband, Eddie Cibrian, are the parents of two children – Mason, nine, and Jake, five.
"My heart overflows with love for those two boys and also because they're my husband's children, I look at them and they are two little spitting images of my husband," LeAnn told ET.
"They're with us half the time – I am never going to let a child walk into my house and not feel the love that they feel at their mom's house…
MORE ON:
Entertainment Tonight
Article continues below advertisement