When American Idols Attack! Constantine Maroulis Calls Clay Aiken Out On Twitter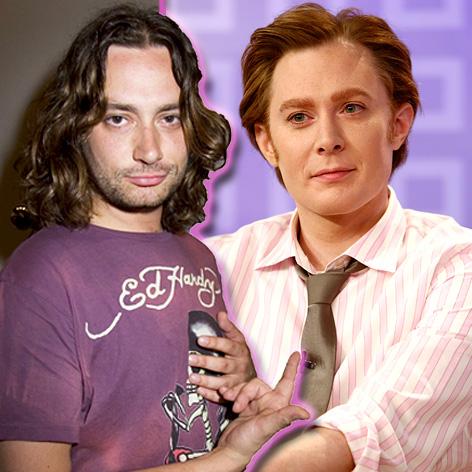 Former American Idol star Constantine Maroulis has called out another alumnus of the singing show, Clay Aiken, on Twitter, after Clay allegedly demanded tickets to Constantine's musical -- then didn't even show up!
Constantine, who is starring in the pre-Broadway touring show of Jekyll & Hyde, performed Friday night at The Durham Performing Arts Center (DPAC) in Durham, North Carolina.
According to Constantine's Twitter rants, Clay, a North Carolina native, had requested special favors of tickets and backstage passes to attend the performance, but then sent his mom and assistant instead.
Article continues below advertisement
After the show, Constantine tweeted to Clay, "wow pretty corny..Say ur comin, tix arranged, then you send ur mama and asst instead? Lol." He then suggested that Clay "stay classy."
What's more, Constantine was outraged that Clay tweeted a photo of Jekyll & Hyde as though he were at the show, and captioned it: "A night at the theatre. Breaking photo rules." But Clay wasn't even in the seats, and Constantine tweeted, "so...who took the pic? His mama/asst - his team made a BIG deal he was comin and wanted M/G" (code for a backstage "meet and greet").
The Tony-nominated Constantine, who now has a highly successful stage career, and who finished in 6th place on season 4 of American Idol, also ranted on Twitter, "I'm sure there was a valid excuse...(None we heard) Or they jus wanted free tix ha!"
While Clay has so far not responded to Constantine's Tweets, some of his fans, known as Claymates, are on the rampage against the other Idol alum. One fan with the handle MusicMarty tweeted, "sad to want publicity so much you would post this. Gotta a problem?, fix it private"
Article continues below advertisement
But it seems Clay, who finished second on Idol season 2, is always getting in hot water. As RadarOnline.com recently reported, Clay slammed the show that made him famous before American Idol geared up for its 12th season premiere on FOX on Wednesday.
Clay even complained to The Hollywood Reporter last month, "Now Idol is about the judges. I don't even know if they remember there are contestants any more."