Clay Aiken Slams American Idol: It's All About The Judges, 'Don't Know If They Remember There Are Contestants'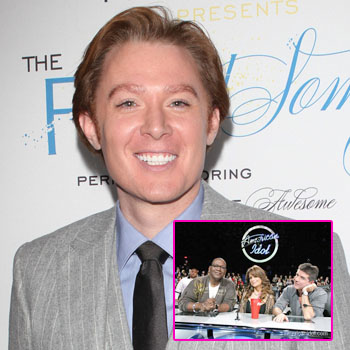 It's the show that gave him his big break nearly 10 years ago when he came in second place, but Clay Aiken hasn't got much love for American Idol nowadays.
The 34-year-old didn't mince any words when asked about the long-running singing contest during a recent interview with The Hollywood Reporter.
Asked if he would return to the Fox hit next year to mark the 10-year anniversary of his appearance he said: "I don't know that I would commemorate it on the show.
Article continues below advertisement
"I don't know that they did it with Justin Guarini and all those folks.
"But Idol back in those days was about the contestants. Kelly Clarkson and Justin and Tamyra Gray and Nikki McKibbin, they were all the stars of the show.
"And when I was on, Ruben Studdard and myself and Kimberley Locke were the stars of the show.
"Now Idol is about the judges. I don't even know if they remember there are contestants anymore."
Article continues below advertisement
Mariah Carey Is 'Too Much Of A Diva To Change Diapers,' Dishes Nick Cannon