Not All Beauty Queens Are Graceful! Miss Universe Contestant's Embarrassing On Stage Wipe Out!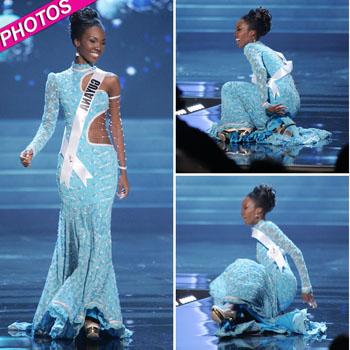 They spend years perfecting their walk, talk and manners in order to compete for the coveted Miss Universe crown, but sometimes the results of all that practice are blown with just one, really awkward misstep!
During the preliminary stage of the beauty pageant in Las Vegas, Miss Guyana experienced an extremely embarrassing moment, when she tripped up on her long, luxurious gown and took a major spill on the stage, and RadarOnline.com has the photos and details.
Article continues below advertisement
Wearing painfully high platform stilettos, the gorgeous beauty queen was perfectly poised and beaming from ear to ear as she took the stage in her floor-sweeping, blue cutout ball gown, however, her stage strut didn't end with a flawless finish as she soon came crashing down.
However, like a true pageant pro, Miss Guyana refused to break her smile and laughed off the incident with ease.
RELATED STORIES: