Mexican Beauty Queen Shot Dead In Crazy Drug Gang Vs Military Gun Battle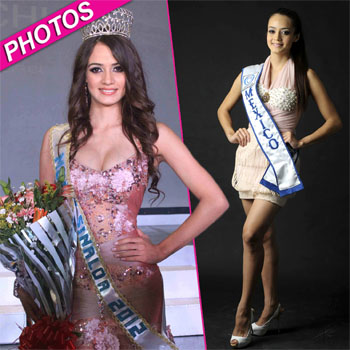 By Debbie Emery - RadarOnline.com Reporter
A beauty queen has become the latest victim of the war between Mexican drug traffickers and the military after she was caught in a deadly shootout.
Maria Susana Flores Gamez was found shot dead on Saturday lying near an assault rifle on a rural road in a mountainous area of the drug-plagued state of Sinaloa, revealed the chief state prosecutor according to a NBCLatino.com report.
Article continues below advertisement
"She was with the gang of criminals but we cannot say whether she participated in the shootout," said state prosecutor Marco Antonio Higuera, adding that it was unclear as to whether she had fired the high-powered weapon. "That's what we're going to have to investigate."
The beautiful 5'7" brunette had allegedly been traveling with the gang of cold-blooded criminals and the recent events in her life had been unfolding like the plot of a Quentin Tarantino movie.
In February, Flores Gamez was crowned the 2012 Woman Of Sinaloa, and then last June the model competed with seven other contestants for the more prestigious state beauty contest, Our Beauty Sinaloa, but didn't win.
If she had, she would then have been eligible for the Miss Mexico title and then Miss Universe. Instead of heading towards potential global fame, Maria ended up hitting the road with the band of drug dealers and becoming embroiled in a lengthy car chase and gun battle near her native city of Guamuchil in the state of Sinaloa, home to Mexico's most powerful drug cartel.
Article continues below advertisement
Higuera revealed that two other members of the gang were also killed and four detained in the shootout with soldiers, which was sparked when the gunmen opened fire on a Mexican army patrol. After the shower of bullets from both sides finally subsided, six vehicles, drugs and weapons were seized.
Flores Gamez is at least the third beauty queen to become embroiled in gang life. The most infamous of which was Miss Sinaloa Laura Zuniga, who was stripped of her 2008 crown in the Hispanoamerican Queen pageant after she was detained on suspicion of drug and weapons violations. She was released without charges but later detained in western Mexico in late 2010 along with seven men, some of them suspected drug traffickers. Authorities found a large stash of weapons, ammunition and $53,300 with them inside a vehicle.
"There is a relationship, sometimes pleasant and sometimes tragic, between organized crime and the beauty queens, the pageants, the beauty industry itself," revealed author Javier Valdez, who wrote the 2009 book Miss Narco about the reoccurrence of drug ties to beauty pageants.
"It is a question of privilege, power, money, but also a question of need," said Valdez, reported the Huffington Post. "For a lot of these young women, it is easy to get involved with organized crime, in a country that doesn't offer many opportunities for young people."
Article continues below advertisement
Just as in the tragic case of Flores Gamez, these stories seldom have happy endings, and the beautiful women often just simply disappear.
"They are disposable objects, the lowest link in the chain of criminal organizations, the young men recruited as gunmen and the pretty young women who are tossed away in two or three years, or are turned into police or killed," Valdez explained.
RELATED STORIES:
Who Was Maria Santos Gorrostieta? Tragic Tale Of The Mexican Mayor Beaten To Death By Drug Cartel