Chicago Gang Life Uncovered, Members Reveal The Pain Of Life On The Streets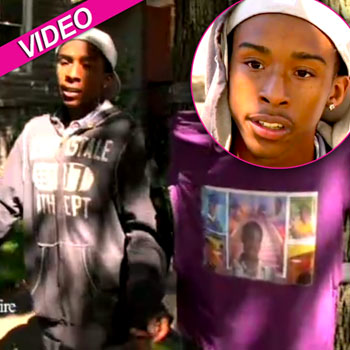 By Debbie Emery - RadarOnline.com Reporter
This year has seen a startling explosion in crime in Chicago, with the murder rate increasing by 25 percent in the Windy City in 2012, making it the highest in more than a decade.
The number of homicides currently stands at more than 400, with the police estimating that at least 75 percent are gang-related, prompting Mayor Rahm Emanuel to lecture gangs over the outbreaks of deadly violence, reported ABCNews.com.
Article continues below advertisement
In June, the Chicago police announced a $1 million partnership with CeaseFire, which uses ex-gang members to mediate conflicts in a controversial deal that put 40 interpreters on the streets of two of the city's most violent neighborhoods.
Four of those involved are now opening up in the ABC News special Hidden America: Don't Shoot I Want To Grow Up, which airs on World News With Diane Sawyer on Friday night, and RadarOnline.com has a sneak preview of the eye-opening documentary.
Jessica joined a gang named the Black Disciples because she wanted someone to love her. But now she just wants to get out.
"You need to find something else better to do to occupy your time because the streets don't love you, they just take you away from the people who do," said the 21-year-old. "I joined a gang to be loved and I had to find out the hard way that the streets don't love you."
Known to her friends as "Jussi Pooh," the wayward girl has wasted her life making fast money on the streets selling and stealing cars.
Article continues below advertisement
"Only things the streets got to offer is money, death or incarceration - because they gang members don't want to end up in jail, so they going to give you the gun and tell you to go out and shoot somebody," she revealed.
Now a sophomore at Olive Harvey Community College studying criminal justice, Jussi Pooh is determined to turn her life around and hopes one day to become a probation officer.
"I think I could be a motivation to stop all this violence and stuff. I used to be a complete hothead in the streets. I used to steal cars, all type of stuff," she explained, but now she turns to writing when she gets angry. "I'm just trying to better myself.
"I'm trying to change for the better because I'm getting old. I'm 21 now," she vowed. "It's time for me to bring out the lady in me so people can see a positive change."
Damien, aka Pacman, has been involved in the gang life from an early age having joined the Chicago Two-Six gang at just nine. Now 28, he is full of stitches, staples, and screws, and is lucky to be alive, especially after being shot six times last month while leaving a party in a rival gang neighborhood.
Article continues below advertisement
Pacman has been arrested a whopping 50 times, with his most serious offenses in 2001, for battery with a weapon, in 2002, for aggravated assault with a weapon and possession of a firearm, and in 2005, for receipt of a stolen possession.
"If you ain't got no job, you ain't got nowhere to go," revealed Damien. "After that, well, you're going to turn to the streets. The streets is calling you."
Now a married man with two sons, age six and 16 months, he is determined that his children won't follow in his footsteps. "I'm going to have to watch every move they make," said Damien.
"I had nothing to do, I had no guidance. So I was raised to be knocked on the streets, running around, looking at the older guys, what they had that I didn't have, and I wanted that."
Instead of embarking on a bitter life on the streets, he encourages his kids "go to school, try to be a president or something. Make something out of himself."
Michael, known to his gang mates as Puppet, has been in the Two-Six since he was 13 years old, when he got beaten up as an initiation. "You got to take a beat down by your homies just to show them you're tough," he said. "And either you're in or you're not. That's it."
Article continues below advertisement
For him, it took his older brother Orlando cutting him off to finally question his street life. "I was sad because I figured that you should love me no matter what," he revealed. "I thought about leaving the gang before but I really can't because this is a part of my family, too… Even though I have a good, loving family at home, this is one of my families that I'm with all the time, too."
He will soon be expanding his genuine family when his ex-girlfriend in Texas gives birth to their son, and is determined to save money so he can be part of the child's life, but admits that if the boy chooses to join a gang one day, he will be mad but will love his son no matter what.
While he aspires to be a paramedic, Puppet has no intention of leaving his gang any time soon. "I enjoy the risk of being out here. I enjoy seeing all my friends every day. I enjoy drinking with them. I enjoy seeing different girls all the time," he admitted.
"I enjoy making bonds with my friends. The longer you chill, the more stuff you do, the closer you get together. That's something I look forward to. I look forward to it for many more years."
Article continues below advertisement
Deandre or "Dre" joined the Black P Stones gang at 14 because he wanted his name to be "well known and do something," which usually involved bloody fights with rival members.
"There's a lot of things that go on being in a gang. If you ready to live that life, then you better prepare because it ain't easy. It ain't easy," he explained. "You got to be wise out here. You got to have your eyes peeled out here, because you will be gone off this earth, quick, in a hurry. Anybody can shoot me down today."
Now 20, Dre is still officially a member but has distanced himself as he wants to get a real job and "step up and be a man" and do something positive. "I'm multitalented. I can do anything. I can draw. I can cook. I can fix things," he said. "I'm good with playing video games. I'm good just doing anything."
Unlike many of his cohorts, he has never been arrested or shot and has a clean criminal record.
Article continues below advertisement
"You just think that because I'm a gang-banger and from the 'hood I just want to shoot somebody," he said. "That's not the case. That's not the case. People care out here about their safety and about their lives.
"I want to help people. I want to show people that can come through the 'hood and do anything in the 'hood that you did, bad or good. You can make it," Dre revealed.
Hidden America: Don't Shoot I Want To Grow Up airs on ABC's World News With Diane Sawyer on Friday on 6:30 p.m. and Nightline at 11:35 p.m.
West Memphis Three's Damien Echols Talks 'Life After Death Row'