Watch Your Back! The Most Violent Cities In the U.S.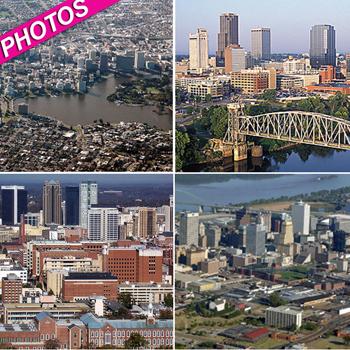 Forget New York, Los Angeles and Chicago. The top 10 most dangerous cities in the U.S. range from Flint, Michigan to Stockton, California, according to the most recent FBI figures.
The website 24/7 Wall St analyzed the data released for 2011, compiling a list of the nation's most crime ridden hotspots. And now RadarOnline.com is revealing the seven urban centers that are cream of the crop.
Article continues below advertisement
7. Birmingham, Alabama
With a population of 213,258, the Southern city also has one of the highest poverty rates in the U.S. According to the report Birmingham holds the ignominious position of being one of the top five cities in the nation for rape and property crime rates.
6. Little Rock, Arkansas.
Although the violent crime rate is down when compared to 2010, the number of murders has shot up from 25 two years ago to 37 in 2011. Meanwhile, the incidents of rape have risen going from 149 to 161 in the same amount of time.
5. Memphis, Tennessee
This city has bucked what is a positive growing trend. The FBI noted that overall the crime rate has declined in the U.S. But the home of Memphis Blues has seen the number of murder cases skyrocket from 89 to 117, while the number of aggravated assault incidents rose by 100 cases. Despite these gloomy figures the city's mayor says he may consider letting some police officers go.
MORE ON:
Celebrity Justice
Article continues below advertisement
4. Oakland, California
This city is notorious for its violent crime rate and the trend continued last year. There were 104 murders in Oakland in 2011, 14 more than there were in 2010, meaning that for the second year in a row it holds the ninth-highest murder rate in the country.
3. St Louis, Missouri
The figures associated with this city are depressing. The median income in 2011 was $32,688 and the unemployment rate was 11.7 percent. Last year 113 murders occurred in St Louis, which means it has the fourth highest murder rate in the nation. It is also has the fifth highest robbery rate in the U.S. and is third on the list when it comes to aggravated assault.
2. Detroit, Michigan
High unemployment and a bad economy are not the only things plaguing the Motor City. The median income just tipped the $25,000 mark. Meanwhile the unemployment rate hovered around 19.9 percent. Out of a population of 713,239, 344 people were murdered. In fact homicides went up by 11 percent last year while the Detroit police budget went down by 18 percent.
1. Flint, Michigan
This city earned its top spot after 2,392 incidents of violent crime were recorded in 2011. It has the country's second-highest murder rate. And when it comes to the rates of aggravated assault, burglary and arson, it is number one in the U.S. The negative figures have not gone unnoticed by local politicians. Flint Mayor Dayne Walling has said that there are "too many guns on the street and it's easy for individuals with evil motives to take another human being's life."