West Memphis Three's Damien Echols' Enduring Love Affair: Married Woman While On Death Row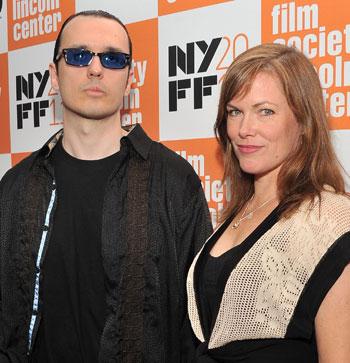 By Alexis Tereszcuk - RadarOnline.com Senior Reporter
It was not a match made in Heaven, but made in prison, and it has lasted into freedom.
Damien Echols, one of the men known as the West Memphis Three, spent half his life on death row in Arkansas for a crime he says he did not commit, but while behind bars he found true love and married a woman.
Lorri Davis was a landscape architect from Brooklyn who saw the documentary, Paradise Lost, about the injustice of the West Memphis Three's imprisonment and decided to write a letter to Echols that sparked their love affair.
Article continues below advertisement
They've given the love letters to the New York Times, sharing their intimate thoughts throughout the years.
Lorri moved to Little Rock, Arkansas to be closer to Echols while he was in prison, convicted of murdering three second grade cub scouts. She began living the same schedule he did as a form of solidarity – meditating when he did and socializing very little.
In return, Echols quit smoking to remove toxins from his body.
"I have to purify myself in every way, because I would never want to stain you or defile you in any way," he wrote -- while she compared her love for him to an addiction: "I'm glad I've never done drugs. I would have never realized how wonderful the real thing is."
They decided to get married while he was still behind bars in 1999, as marriage would allow them contact visits, and their wedding day was the first time they met without a glass barrier between them.
Article continues below advertisement
"You were talking about falling in love. I've been steadily falling deeply in love with you ever since you asked me about chastity belts, whirling dervishes, 17-year locusts, and Paganini. . . . The only thing I ever want to do anymore is disappear inside your head and heart, to live there. . . . I'm falling apart, but at the same time being reconstructed into something new. 'Damien' doesn't exist anymore," he passionately wrote to her.
MORE ON:
Celebrity Justice
"My Dearest Damien," she replied. "You are safe now, here inside me, where you will be from here on."
All wasn't perfect between the couple though. As the case gained notoriety through celebrity help, including support from Johnny Depp and musician Eddie Vedder, Damien was receiving attention from multiple women and supporters, causing his wife's jealousy.
"My love. . . . I cannot do this anymore" Lorri wrote to her husband. "I must stop before irreparable damage is done. . . . I cannot have these people in here anymore. . . . If I don't stop I'm going to break, I am going to crack in more places than one."
Article continues below advertisement
However, their love endured, and they celebrated in person after his release from prison and now live in New York together.
They still have their struggles – Damien isn't used to eating with utensils or venturing out alone, has never flown in a plane and never driven a car, but they're managing and are happy together.
The West Memphis Three were comprised of Echols, Jason Baldwin and Jessie Misskelley, Jr., who were convicted for the 1993 murder of three West Memphis 8-year-old boys.
Baldwin and Misskelley were sentenced to life in prison for their alleged role in the brutal slayings, and Echols, believed to be the ringleader was sentenced to death. The three were eventually freed in August after striking a deal with the state.
They pleaded guilty, but were allowed to maintain their innocence and were freed under the agreement that they would not sue the state for damages.
RELATED STORIES: