LAPD Investigating Charles Manson Connection To 12 Unsolved Murders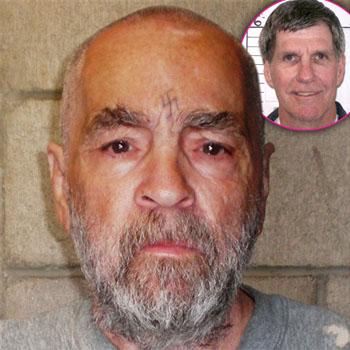 By Debbie Emery - RadarOnline.com Reporter
More murders may yet be tied to notorious 77-year-old cult killer Charles Manson, as the Los Angeles Police Department revealed that it has an open investigation on a dozen of cold cases that may be connected to his deadly followers.
The revelation was made during a legal wrangling to obtain hours of audio tapes recorded in 1969 between Charles Manson follower Charles "Tex" Watson and his attorney as the LAPD believe that they could shed light on the gruesome activities of the Manson Family, reported the LATimes.com.
Article continues below advertisement
Watson has been fighting to stop the police from accessing the tapes, and earlier this month a federal judge in Texas granted an emergency order preventing them from executing a search warrant at an office where they are kept.
As RadarOnline.com previously reported, Manson is currently serving a life sentence at California's Corcoran Prison for his role as the mastermind of the 1960s killing spree. He was denied parole for the 12th time last April and will not be eligible again for 15 years, at which time he will be 92.
The latest round of investigations is targeting Manson because the murders in question occurred near places surrounding Los Angeles where the family infamously operated at the time.
"These cases have circumstances that are similar to some of the Manson killings," said Commander Andy Smith. "We are hoping that these Tex Watson tapes can provide us further clues on these cases... We are doing this for the families of these victims.
Article continues below advertisement
"The civil courts here are blocking a criminal investigation," he claimed. "We don't even have a date for when this will be resolved."
However, they are currently facing a legal standoff with U.S. District Judge Richard A. Schell, who forbid the tapes from being removed until the Bankruptcy Court resolves Watson's appeal. "This court understands and respects the desire of the LAPD to seek access to the 42-year old tapes," Schell wrote. "However, the LAPD has provided no explanation as to why this court should shortcut the usual procedure for determining a bankruptcy appeal of a previous ruling in Bankruptcy Court."
The Helter Skelter leader and his followers were convicted of eight murders, most notoriously the brutal slaying of Roman Polanski's pregnant wife, Sharon Tate, and her friends in August 1969. The following night, Leno and Rosemary LaBianca were violently killed and the words "Death to pigs" was written on a wall, and "Healter Skelter" (which was misspelled) was written on the refrigerator door.
Members of the group were also convicted in the murders of musician Gary Hinman and stuntman, Donald "Shorty" Shea. One family member, Bruce Davis, was granted parole for his involvement in those killings last month after 40 years in prison.