Manson Family Murderer Wins Parole After 40 Years In Prison, Previously Turned Down 27 Times!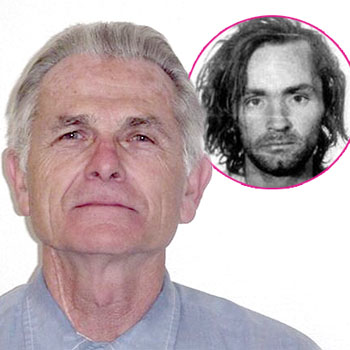 By Debbie Emery - RadarOnline.com Reporter
A former member of Charles Manson's killer cult was granted parole Thursday after 40 years in prison for murder — after having been turned down 27 times before.
Bruce Davis, who was convicted with the Helter Skelter leader and another man for two murders unrelated to the notorious Sharon Tate massacre in 1969, was told the good news on the eve of his 70th birthday by the parole board at the California Men's Colony at San Luis Obispo.
Article continues below advertisement
"It's time for him to go home," said Davis' attorney, Michael Beckman, who has been fighting for years to get his client released, reported ABCNews.com.
A parole board determined in 2010 that Davis was ready for release, but then-Gov. Arnold Schwarzenegger reversed the decision, citing the heinous nature of the crimes.
The Family member's life in prison resulted from the 1969 murder of actor and Hollywood stuntman Donald "Shorty" Shea, who was ordered to be killed by Manson because he believed he was "a snitch."
According to Davis, he asked for a ride from Shorty with cohorts Charles "Tex" Watson and Steve Grogan to a car parts yard near the Manson ranch, where Shea was bludgeoned with a pipe wrench, stabbed, and brutally tortured to death.
"I stayed in the car for quite a while but what...then I went down the hill later on and that's when I cut Shorty on the shoulder with the knife, after he was...well, I don't know if he was dead or not," Davis told a past parole board, while revealing that Manson had handed him a machete but he couldn't bring himself to use it on the dying man.
Article continues below advertisement
"I was sick for about two or three days. I mean I couldn't even think about what I what I had done."
Davis was also convicted for his involvement in the murder of musician Gary Hinman, who was killed over money and property that Manson claimed Hinman owed the Family.
His death is considered the first of a series of murders committed by The Family to start Helter Skelter – a "race war" that Manson had preached to his followers that would happen in the summer of 1969.
During his four decades in prison, Davis has become a born again Christian, ministered to other inmates, married a woman he met through the prison ministry (who he recently divorced), and has a grown daughter. He has also earned a master's degree and a doctorate in philosophy of religion.
As RadarOnline.com previously reported, Manson was denied parole for the 12th time in April and remains in custody at the Corcoran State Prison in Central California. The 77-year-old will not be eligible for another 15 years, when he will be 92 if still alive.