From Mass Suicides To World Domination: Behind The Most Crazed Cults In History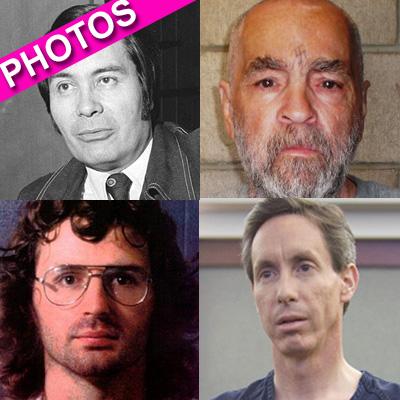 By Debbie Emery - RadarOnline.com Reporter
From prophesies predicting the end of the world, to crazed leaders instructing their followers to commit cold-blooded murder, cults have long been a disturbing part of criminal and religious history.
While for those on the outside, it often seems unbelievable how intelligent and rational people can fall for such crazed concepts, RadarOnline.com is revealing how for those who are brainwashed it is all too easy to fall under their manipulative leaders' spells.
Article continues below advertisement
The Manson Family
Notorious criminal Charles Manson has become the dark face of the peace loving, hippie era of the sixties since his followers committed one of the most chilling crimes of the decade. Taking the term Helter Skelter from a Beatles song, the musician believed in an impending race war and plotted grisly murders to precipitate it that were carried out by his followers, named the Manson Family. The unemployed ex-con gathered a loyal band of followers who obediently got blood on their hands under his guidance from their base at the remote Spahn Ranch. The most gruesome of these attacks was the the notorious 1969 butcherings of Rosemary LaBianca and Sharon Tate, the pregnant wife of director Roman Polanski.
Now 77, Manson was originally sentenced to death for his part in the cult style murders by members of his commune but it was modified in 1977 to life in prison with the possibility of parole, which he had rejected for the 12th time last April.
Article continues below advertisement
Warren Jeffs
As leader of the Fundamentalist Church Of Jesus Christ of Latter-Day Saints, polygamist Warren Jeffs gained notoriety when he was placed on the FBI's Ten Most Wanted List for fleeing Utah state charges related to his arrangement of illegal marriages between his adult male followers and underage girls. Along with his illicit match-making under the name of the church, the creepy cult leader was also convicted of the sexual assault of two girls, ages 12 and 14, who he claims were his "spiritual brides," and was sentenced to life in prison in August 2011.
The sex-hungry aspects of the FLDS Church have been condemned by mainstream Mormons, but that has not curbed the influence of now 56-year-old Jeffs, who continues to illegally preach from behind bars and has written a new book based on "revelations from God" for cult members who are still following the word of their imprisoned leader.
Article continues below advertisement
Branch Davidians
The small Texas city of Waco rose to notoriety in 1993 when a siege of the cult Branch Davidians' ranch lasted for 51 days and ended in the fiery deaths of 76 members, including 20 children and two pregnant women. The standoff between sect leader David Koresh -- who claimed he had been told by God to procreate with the women in the group to establish a "House of David" of his "Special People" -- and the ATF began on February 28 when agents raided the ranch to seize illegal firearms after hearing reports of illegal gunfire from the Mount Carmel compound.
The standoff kicked off to a bloody start when four agents and six Branch Davidians were killed in a shoot out, leading to the siege during which Koresh released numerous video recordings to the FBI. There has been much criticism about how the volatile situation was handled by the authorities, including the use of sleep- and peace-disrupting sound and sniper attacks. Although Koresh repeatedly denied any plan for mass suicide, three separate fires broke out in different parts of the building that the government adamantly claims were deliberately started by the Davidians. Despite extensive investigation, criminal trials and conspiracy theories, what really happened in what has been described as the "greatest domestic law enforcement tragedy in the history of the United States," remains intensely controversial.
Article continues below advertisement
Jonestown
As founder and leader of the People's Temple, Reverend James Warren "Jim" Jones had so much power over his followers that he encouraged and strong armed the bulk of his members to commit suicide on November 18, 1978 in his self-named commune of Jonestown, Guyana. Jones first gained notoriety in San Francisco in the 1960s and '70s where he voiced his "Apostolic Socialism" concept. "If you're born in capitalist America, racist America, fascist America, then you're born in sin. But if you're born in socialism, you're not born in sin," he preached.
He moved the cult to Guyana claiming it was a sanctuary from media scrutiny, and many members argue that when he was down there Jones could no longer hide his heavy drug taking from other heads of the community. The group took a murderous turn when U.S. Congressman Leo Ryan visited Jonestown to investigate human rights abuse allegations with a group of concerned relatives and reporters, and they were killed by Jones' "Red Brigade" armed guards when they tried to escape.
Article continues below advertisement
Later that same day, 909 inhabitants of Jonestown (303 of them children) died of apparent cyanide poisoning, mostly in and around a pavilion. The mass suicide went down in history as the greatest single loss of American civilian life in a non-natural disaster until the September 11th attacks.
Aum Shinrikyo
Aum Shinrikyo is a Japanese cult founded by Shoko Asahara in 1984 and what started off as a yoga and meditation class quickly escalated until gaining international notoriety in 1995 when it carried out the deadly Sarin gas attack on a Tokyo subway, which killed 13 commuters, seriously injured 54 and affected 980 more.
It's controversial creator attempted to tie religious ideas to popular anime, and went on to preach the necessity of modernizing popular Buddhist themes. Aum's phenomena became one of the fastest-growing religious groups in Japan's history, and while the secret practices are shrouded in mystery, they are believed to have involved the use of hallucinogenics such as LSD and members being painfully hung upside down or suffering from shock therapy. The dark nature of the group spread to include kidnappings, and the murder of escaped members and their relatives, until one of which left a note that read: "If I disappear, I was abducted by Aum Shinrikyo." The message sparked planned raids on the sect by police across Japan, which is thought to have triggered the coordinated attack on five subway trains in Tokyo.
Article continues below advertisement