Leader Of Controversial 'Moonies' Cult Hospitalized; In Critical Condition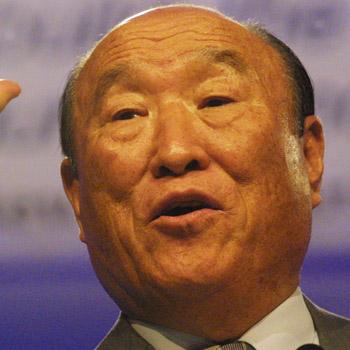 By Debbie Emery - RadarOnline.com Reporter
Unification Church founder, Reverend Sun Myung Moon, better known as the man who founded the 'Moonies,' is in intensive care suffering from severe pneumonia, RadarOnline.com is reporting.
The leader of the controversial religion was rushed to the Catholic University's St. Mary's Hospital in Seoul, South Korea, on Monday where he remains in critical condition with severe breathing problems, reported the Korea Herald.
Article continues below advertisement
Moon founded the Unification Church in Korea in 1952 and has built it into a worldwide religious organization claiming up to 7 million believers. The church extols Moon as the "True Parent of Mankind" and "the King of all Kings," and if he dies power will be handed down to his sons, Hyung Jin and Kook Jin.
When his children take over leadership, some fear that the cult's unbridled strength will increase. "Most will think it is over when Sun Myung Moon dies but it won't be," a Moonie expert revealed to RadarOnline.com. "It has the potential to be much, much worse.
"These are power hungry people. The Moon kids now in charge have shown they can rationalize and lie about anything then make themselves believe what they say is God's will.
"Members have never known or understood where Moon was leading them. They just follow blindly and say 'true love' or 'One family under God' if asked," he claimed.
During the 1970s Reverend Moon's church became notorious around the world amidst accusations of brainwashing and aggressive recruitment techniques, the movement caused outrage when followers were matched to total strangers and then married at mass weddings.
Article continues below advertisement
The term 'Moonie' is now deemed derogatory by many members of the movement, but suspicion from the outside world remains. Through mass weddings, Moon claimed to be purifying his newlywed followers in creating a new race of sinless children. Now in their twenties, those children are preparing to be blessed in a mass wedding of their own.
As RadarOnline.com previously reported, the lifestyle of modern Moonies was recently spotlighted in a TLC reality show Mass Moon Wedding, which went behind the scenes of the movement by following three young couples as they travel thousands of miles to South Korea to be blessed by their messiah at one of the movement's controversial mass weddings, where 2,000 couples are wed at once.