Cult Expert Hopes TLC's Mass Moon Wedding Will Warn People 'Moonies Are Still A Threat'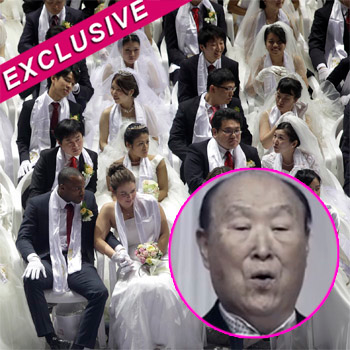 By Debbie Emery - Radar Reporter
TLC's new reality special Mass Moon Wedding is the latest television project to go behind the scenes of a secret cult, and a former follower of the controversial religion hopes it will warn people that they are still a threat, RadarOnline.com can exclusively reveal.
The new expose, which premiered Sunday, follows three young couples as they travel thousands of miles to South Korea to be blessed by their messiah, Reverend Sun Myung Moon, at one of the movement's controversial mass weddings.
Article continues below advertisement
Rather than offering his congratulations to the 2,000 brides heading for their nuptials, Steven Hassan, a licensed mental health counselor and former member of the Moon's organization who authored Combating Cult Mind Control, revealed that he is worried about their welfare and involvement with the religion.
"I feel bad for the couples on the show, I wish I could sit down and talk with them and let them know I was one of Father's chosen leaders and that the teachings of the group needs to be examined before they even think of having children as this is not a healthy organization," he told RadarOnline.com in an exclusive interview.
"It is a very destructive organization in fact.
"Unfortunately people in this day and age are not aware that the problem of cults has not gone away," explained Hassan, who hopes that singledoms desperate to find a partner won't begin turning to the Moon's controversial church as a way down the aisle.
"Young people who have been burned by the dating scene may think this could be a really cool way to meet someone who doesn't use drugs and who cares about the world," said the cult expert who was recruited by two women posing as students at Queens College while he was getting over a bad break up. He only escaped the group's clutches when his family carried out an intervention following a serious car crash in 1976.
Article continues below advertisement
"I think a lot of people would love the idea of someone who they believe has higher awareness to choose their perfect mate. That's what I believed. Instead they would get an indoctrinated member of a ruthless cult," he warned.
In the 1970s Reverend Moon's Church of Unification, nicknamed 'the Moonies', became notorious around the world. Accused of brainwashing and aggressive recruitment techniques, the movement caused outrage when followers were matched to total strangers and then married at mass weddings.