Exclusive
Katie Holmes Is Making 'All The Right Moves To Escape Scientology,' Says Former Celebrity Recruiter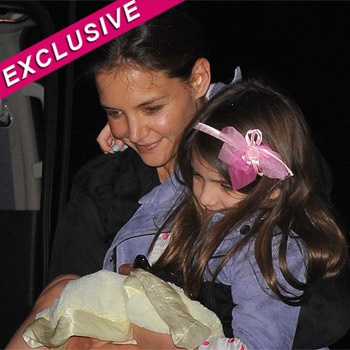 Escaping the hold of Scientology is never going to be easy, but Katie Holmes has a far better chance than most members, a former high level executive of the controversial religion exclusively told RadarOnline.com.
"I think she is going to break free. They would be very stupid to treat her just like any other wife trying to leave with her child," Nancy Many, who worked with celebrities at the Scientology's Sea Organization, told us.
Article continues below advertisement
As RadarOnline.com previously reported, less than two weeks after Holmes filed for divorce, she and Tom Cruise have reached a divorce settlement, and as Radar was first to report, she will have primary custody of their 6-year-old daughter, Suri, who will continue to live in New York City, although Cruise will have tightly controlled visitation rights.
"What is normal and usual is that the group tries to keep the child within Scientology and with the parent," explained Many, a 27-year veteran of the religion, revealed. "I was very lucky personally because we didn't put our children in Scientology schools but I have friends who did, only to discover five or ten years later that they want out -- and very similar to Nicole Kidman -- they discover they've lost their children.
"Katie is in an incredibly wonderful position. A, Suri is too young to have been fully indoctrinated, and B, she is sitting in the power position because anything they do is going to be public."
As a former spy for Scientology and the author of My Billion Year Contract, Many has extensive first-hand experience of the perils of turning your back on the organization.
"I spied on people who were leaving or thinking about leaving, and the actual interrogation they did on me was done by the espionage unit because they discovered I was changing sides," Nancy revealed to Radar.
Article continues below advertisement
"I have been very blessed, comparatively to others, I have had very little harassment. I've been followed, my phones have been tapped, especially when I was in contact with a very high level target of theirs."
"We saw how (former Scientologist and Cruise auditor) Marty Rathbun turned Bella and Connor against their mother," she said, explaining that the advantage Katie has over Nicole in the fight for her family is: "First the Internet was prominent back then, and Katie has the Internet, and there was no 'anonymous,' Katie and all of us have 'anonymous.'
Other advantages the former Dawson's Creek star has involve her personal background.
"She's Catholic, her family are very close and they have no doubt done a lot of research – people have been sending them books and articles from all over the place so they actually know how to do it. Her father is a divorce attorney and she started her life in New York two years ago so this is something that was planned!" explained Many.
Article continues below advertisement
"I think her father is brilliant. When she first married Tom, I knew that pre-nup was going to be great because he handles very high level divorces all the time, that's what he does for a living.
"This is about the time children start going to the big Scientology schools so it is no coincidence that she left now. It is also very telling that they say Tom was the one that was loosey goosey with her when Katie was trying to discipline, that's a Scientology thing. Children are looked on as adults in little bodies," revealed Many.