The World Appears Safe -- Until The Next Doomsday Prophecy!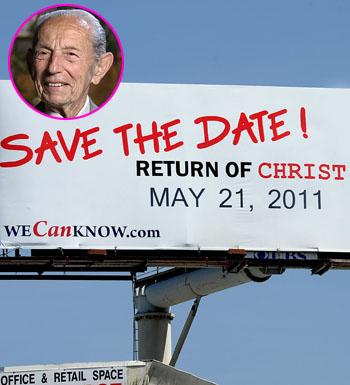 by RadarOnline.com Staff
With most of the world already past the deadline for Saturday's supposed 'end of the world', the man behind the fear appears is nowhere to be found!
Rapture prophet and evangelical radio show host Harold Camping was unusually absent from his radio network, 'Family Radio,' as the countdown ended.
The stations played nothing but music today. No one at his Oakland, Calif., headquarters picked up the phones. And the network website wasn't loading up on most search engines.
Article continues below advertisement
The 89-year-old Camping had been giving daily sermons about the end of days in recent weeks, claiming that the apocalypse would begin in Asia and make its way around the globe throughout the day.
PHOTOS & VIDEO: It's Monkey Business At The Hangover Part II Premiere
RadarOnline is happy to report that Asians and Europeans are OK, and so are most Americans.
Family Radio staff put up over 2,000 billboards nationwide warning of the end of days.