PHOTOS & VIDEO: It's Monkey Business At The Hangover Part II Premiere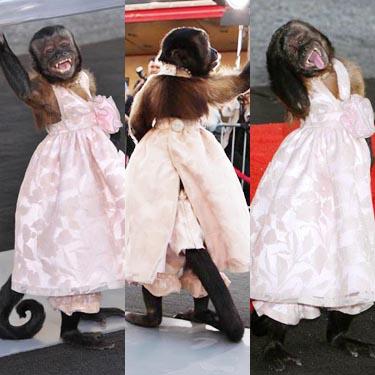 Who needs Mel Gibson when you've got Crystal the monkey?
The adorable star of the The Hangover Part II pranced and preened on the red carpet at the film's world premiere at legendary Grauman's Chinese Theatre on Thursday in Hollywood.
Clad in a gown, Crystal upstaged her co-stars Bradley Cooper, Zach Galifianakis and Ed Helms, who were also on hand.
As we previously reported, Gibson last fall was dismissed from a possible career-saving cameo in the highly-anticipated sequel, after the film's cast and crew heavily protested his involvement. This came in the wake of RadarOnline.com's world exclusive audio excerpts of his vile rants towards ex Oksana Grigorieva.
Article continues below advertisement
"I thought Mel would have been great in the movie," director Todd Phillips said following Gibson's ouster. "But I realize filmmaking is a collaborative effort, and this decision ultimately did not have the full support of my entire cast and crew."
Gibson -- whose latest film, The Beaver has tanked badly in limited release -- didn't seem too upset by movie, as he told Deadline.com last month "it's okay.
"You have to let that go," he said. "You just have to let that go."
The Hangover Part II hits theaters May 26.
RELATED STORIES: