Mexican Female Mayor Beaten To Death By Drug Cartel After Surviving Two Assassination Attacks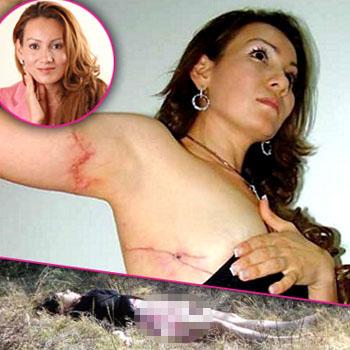 By Debbie Emery - RadarOnline.com Reporter
A fearless Mexican mayor who had bravely survived numerous attempts on her life and vicious beatings finally lost her fight against crime and has been found dead in a ditch from blows to the head.
The body of Maria Santos Gorrostieta, 36, was discovered by a road in San Juan Tararameo, Cuitzeo Township. She had been stabbed, burned, battered and bound.
As the former mayor of Tiquicheo in the western Michoacan state, Gorrostieta had waged a bitter war against the drug gangs who were hell-bent at terrorizing the region, during which she had been shot at twice, lost her husband to a murderous cartel attack, and suffered scars from beatings that would last her lifetime.
Article continues below advertisement
In October 2009, unidentified gunmen ambushed the car she was traveling in with husband Jose Sanchez and shot him dead. Three months later, a second attack on her life led her to express her confusion as to why she was being targeted.
"I have a clear conscience, I have never had any issues of any kind, be it money, family or crime related, and I have never had any fights with any neighbors or residents of my town, or any other town," Gorrostieta said.
In a sign of her fortitude against her aggressors, the brave mayor posted photos of the scars she received in her local newspaper with a message thanking her family and supporters and vowing to "continue fighting, true to my ideals and my convictions, convinced that the truth will make us free."
Gorrostieta was last seen on November 12, when while she was taking her daughter to school in the city of Morelia, a car blocked their path and two men dragged her out of her van in front of her crying child and whisked her away.
Article continues below advertisement
Her family held out hope that a ransom request would be made, but eventually reported the kidnapping to the police and after a widespread search her ravaged body was found eight days after she was snatched.
Gorrostieta had become an icon in the battle against drug barons and was seen by many as a heroine during her time as mayor from 2008 until 2011. She is survived by two sons and a daughter. Her second husband Nereo Delgado Patinoran, believed to have vanished at the same time she did, is still missing.