Who Was Maria Santos Gorrostieta? Tragic Tale Of The Mexican Mayor Beaten To Death By Drug Cartel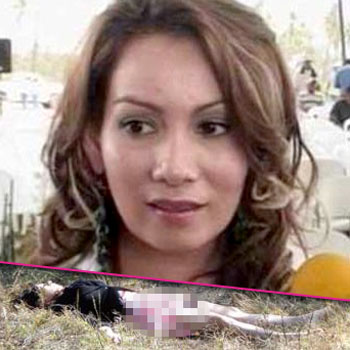 Article continues below advertisement
Gorrostieta selflessly begged her abductors to spare her young daughter, who was left wailing in the family vehicle as her mother was whisked away to her death, according to newspaper El Universal.
As RadarOnline.com previously reported, the former mayor of Tiquicheo in the western Michoacan state had waged a bitter war against the drug gangs who were hell-bent on terrorizing the region, during which she had been shot at twice, lost her husband to a murderous cartel attack, and suffered scars from beatings that would last her lifetime.
Gorrostieta was elected mayor of the rural town in 2008, and almost immediately started getting death threats from the ruling drug lords who ran the surrounding farmland because of her steadfast denouncement of traffickers and her determination to confront accusations that her late husband was involved in criminal business.
A wave of gunfire aimed at a car the couple was traveling in through the town of El Limone left Jose Sanchez dead in October 2009, but even being widowed and wounded didn't deter Maria from her political career, and officials believe her zeal may have led to her death.
Article continues below advertisement
A second attempt on her life left the pretty brunette riddled in bullets and "in constant pain," and led the national heroine to face her adversaries head-to-head.
"I have had to bear losses that I would not wish on anyone, and have had to accept them with resignation and with the knowledge that it is our Lord's will, and have gone on, even with a wounded soul," she said, according to the Christian Post.
"Despite that, and despite my own safety and that of my family, what occupies my mind is my responsibility towards my people: the children, the women, the elderly and the men who break their souls every day without rest to find a piece of bread for their children," Gorrostieta added.
"I will get up however many times God allows me to, to keep on searching, scratching, negotiating plans, projects and actions for the benefit of all of society, but in particular, for the vulnerable ones. This is who I am," she concluded.
Article continues below advertisement
In a recent statement translated by BorderlandBeat.com, Maria expressed her bemusement as to why she was such a target of hatred and murderous revenge.
"My life these past few months has received blows that I sincerely believe I do not deserve, since my efforts have always been focused on leading my people, my city, towards a better quality of life, to provide them the tools that will help them face the difficult economic situation that we are all going through.
"They have regretfully celebrated the misfortunes I have suffered. It's true they have attacked me physically and morally; one can still feel on my body the wounds from the bullets and from the disbelief of some who have doubts about my mutilated body. I struggle day to day to erase from my mind the images of the horror I lived, and that others who did not deserve or expect it also suffered," she wrote.
Article continues below advertisement
In a sign of her fortitude against her aggressors, the brave mayor posted photos of the scars she received in her local newspaper with a message thanking her family and supporters.
"I wanted to show them my wounded, mutilated, humiliated body, because I'm not ashamed of it, because it is the product of the great misfortunes that have scarred my life, that of my children and my family," she explained.
The late mayor, who left office in 2011, vowed her dedication to keep up the fight in the future. "My long road is not yet finished; the footprint that we leave behind in our country depends on the battle that we lose and the loyalty we put into it," she promised.
Gorrostieta's tragedy is sadly all too common in a country filled with corrupt police turning a blind eye to the drug cartels' reign of terror that include beheadings, hangings, mass graves and streets filled with tortured bodies.
Article continues below advertisement
It is estimated that more than two dozen mayors and 50,000 civilians have been murdered since President Felipe Calderon declared war on drug traffickers six years ago.
Maria is survived by two sons and a daughter. Her second husband Nereo Delgado Patinoran, believed to have vanished at the same time she did, is still missing.
RELATED STORIES:
Amityville Horror Lasts A Lifetime For Boy Who Lived In Haunted House