From Sean Connery To Daniel Craig, LIFE Celebrates 50 Years Of James Bond In Iconic Images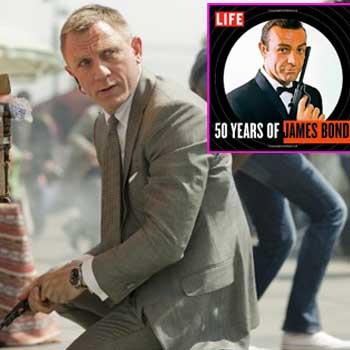 By Debbie Emery - RadarOnline.com Reporter
Half a century after Ian Fleming's super-spy first hit the big screen, James Bond is still as dashing and seductive as ever!
To commemorate the historic anniversary and the blockbuster opening of Skyfall starring sexy blonde Brit Daniel Craig, a slick new book has been released to celebrate the current 007 and the generations that came before him.
Compiled by the Editors of LIFE magazine, 50 Years of James Bond tells the story of the world's most daring secret agent from his literary beginnings at the pen of Fleming through the "lucky eight" actors who have brought the coveted role to life on screen, beginning with the little known Barry Nelson, who starred in the 1954 TV adaptation of Casino Royale for a TV series called Climax!
Article continues below advertisement
The stunning coffee table book captures remarkable behind-the-scenes photos from the storied archives of LIFE showing iconic scenes from the films along with images of the series' stars in their lives beyond Bond.
Commentary from 007 insiders and tantalizing trivia about James in all his tuxedo-wearing, martini-drinking forms from Sean Connery through Roger Moore and Pierce Brosnan, to current lady-killer Daniel Craig.
The collector's item also includes insight into creator Fleming's wartime experience with British intelligence that gave his fictional spy a depth of knowledge, and an essay by veteran Time magazine film critic Richard Corliss that explains Bond's resilient relevance through nine presidents, four popes, the end of the Cold War, and "numerous other milestones over the past half century, marking James Bond as the longest running continuous English-language movie series."
Article continues below advertisement