Shaken, Not Stirred: Daniel Craig Sick At Skyfall Premiere In London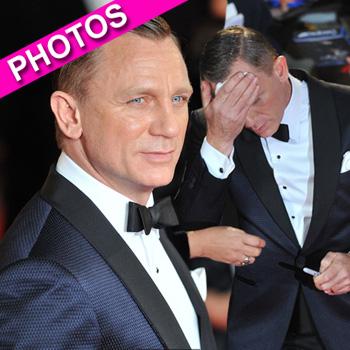 Make no mistake about Daniel Craig: his word is his bond.
Craig was clearly under the weather at the London premiere of Skyfall Tuesday, and as we've got the pics for you right here on RadarOnline.com.
The 44-year-old A-lister looked clammy, sweaty and tired, but braved the walk on the red carpet in his tuxedo like a consummate professional. Craig's wife, Rachel Weisz, comforted him at one point.
Article continues below advertisement
Craig is playing the legendary character for the third time; he also played Bond in 2006's Casino Royale and 2008's Quantum of Solace.
"The reception is incredible … this is my third Bond premiere and it's the biggest and the best," the hunky actor told BANG Showbiz.
"Bond's loyalty to M (Judi Dench) is tested as her past comes back to haunt her" in the film, according to iMDb. "As MI6 comes under attack, 007 must track down and destroy the threat, no matter how personal the cost."