Daniel Craig's James Bond Trunks Fetch $71,742 At Charity Auction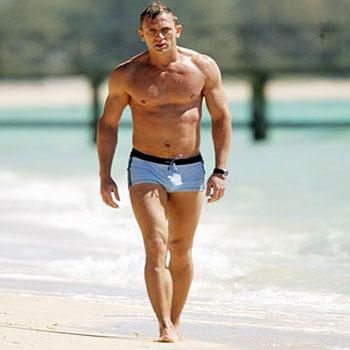 The image of him coming out of the surf in his form fitting swim trunks is priceless, now Daniel Craig's famous blue James Bond shorts have sold for close to $72,000 at auction.
The swimwear from Casino Royale was sold by Christie's on Friday and was among a number of 007 items being auctioned off for charity to mark the 50th anniversary of the Bond franchise.
Dame Judi Dench - who plays M in the films - introduced the tiny trunks and joked: "All I'm going to tell you is they're unwashed."
Article continues below advertisement
An Aston Martin DB5 driven by Craig in the film Quantum Of Solace went for $389,377 and a suit he wore in the soon-to-be released Skyfall sold for $75,615 despite only expecting to fetch around $5,000.
Sale proceeds went to a number of charities and the money from the navy and powder blue shorts went to an ironically good cause, Women for Women.
RELATED STORIES: