Exclusive
LeAnn Rimes Made Her Own 'Angelfish' T-Shirt To Mock Brandi Glanville Nickname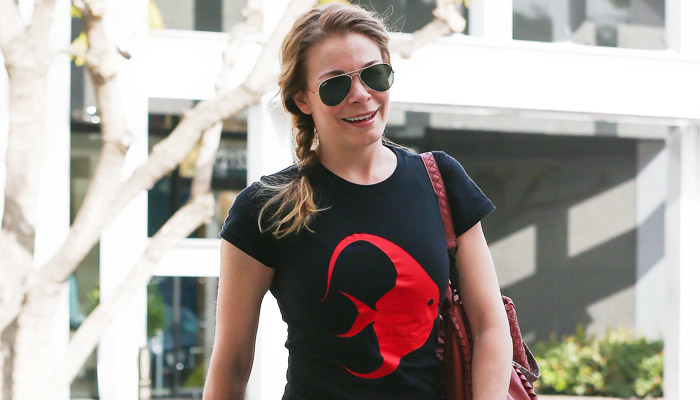 Not only does LeAnn Rimes arrange her own paparazzi photo ops, but RadarOnline.com has exclusively learned the troubled singer recently made her own t-shirt to purposely reference enemy Brandi Glanville's nickname for her.
LeAnn stepped out in Los Angeles on January 9 on her way to the gym wearing a black shirt with a red angelfish on it — and according to an insider, LeAnn made the shirt to draw attention to herself and stir controversy.
Article continues below advertisement
"LeAnn does everything she can to draw attention to herself and she made that t-shirt because she knew it would get people talking," the insider revealed.
"Of course she tried to pretend like someone sent it to her, but that's not the case. She's out of her mind!"
However, a source close to LeAnn says that one of her friends bought the shirt for her as a joke.
"LeAnn wants to deal with Brandi only with humor," says the source.
But whether she made it or it was bought for her, Brandi didn't find it funny, a source told RadarOnline.com.
"She felt that LeAnn was mocking her."
In December RadarOnline.com obtained an email from Brandi in which she made reference to LeAnn as an angelfish because "she sings like an angel and drinks like a fish."
"Loving the t-shirt my friend sent me….hysterical," LeAnn tweeted the same day she wore the angelfish top.
Article continues below advertisement
"LeAnn purposely wore that t-shirt knowing it would fuel the feud with Brandi," the source said.
"But the truth is that she's the one causing all the controversy herself. She loves it and thrives off of it!"
LeAnn famously had an affair with the Real Housewives of Beverly Hills star's then-husband Eddie Cibrian and is now married to him and helps raise the two children he had with Brandi.
RELATED STORIES: