Watch: Kailyn Lowry Furious After Fight With Babby Daddy Over Visitation -- 'I Don't Want To Lose More Time With My Kid!'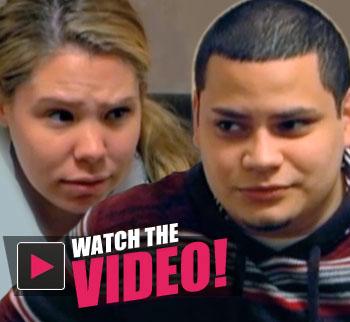 Since season five of Teen Mom 2 debuted, Kailyn Lowry has been in a nasty custody battle with her baby daddy Jo Rivera over their son Isaac.
In a preview for the upcoming episode, the fight continued, leaving Lowry in tears.
"I talked to my lawyer again and she said Jo wants 10 overnights a month with Isaac in exchange for allowing me to move to Delaware," Lowry told the cameras. "Right now, Jo gets Isaac for eight nights, so I'm going to meet him to see if we can compromise."
Article continues below advertisement
At Rivera's house, Lowry kicked right into the conversation.
"Okay, so I told my attorney that I would compromise for you want 10 overnights," she told Jo. "I would compromise for nine."
Jo wasn't giving in, though.
"I think you're making a big deal of one overnight," he replied.
"I just really wanted Isaac to go to school three days a week, like Monday, Tuesday, Wednesday," Lowry then tried to explain.
But Rivera held his position.
PHOTOS" Kailyn & Javi's Wedding Photos!
"Is it possible for him to go to school full time one week and then some days the next week?" he asked. "Is that possible to do that?"
Lowry tried to share the details of Isaac's schooling.
"The program that I have him enrolled for is for Monday through Thursday," she said. "So my thought was, 'Okay, I'll pay tuition for Monday through Thursday and then only send him Monday, Tuesday, Wednesday.' Because otherwise I don't think that I should pay for it at all for him to go two days a week. "
Article continues below advertisement
"I just don't see," Rivera said. "It's not a huge deal. It's one extra night."
No progress was made.
"So essentially we're not, basically we're not coming to an agreement then?" Lowry questioned. "You're dead set on Tuesday. I'm dead set on Wednesday."
This lead Rivera to wage a counter attack.
"I was dead set on you not moving," he stated.
"But you moved!" Lowry retorted.
Rivera then called the situation and Lowry's position "so petty."
That didn't settle too well with her.
"What a normal father gets is every other weekend," she shouted.
Unfortunately, Rivera failed to see Lowry's point.
"What a normal father? I'm not a normal father. I'm an extravagant father," he said.
At the point, Lowry got up and walked out of the house.
"Yeah, well, I'm going to leave now," she said. "Have a nice night."
But while she was able to maintain a straight face in the house, as soon as she got to the car, Lowry called her husband Javi Marroquin and broke down in tears.
"Javi, I'm so pissed off!" she cried. "Like I came to here to **** talk to him about tomorrow and he's like, 'You're being petty, saying you're going to give me nine overnights...' He's calling me petty. Like I don't want to lose more time with my kid."
radar_embed service=mtvnservices src="http://media.mtvnservices.com/embed/mgid:uma:video:mtv.com:1004594/cp~series%3D2214%26seriesId%3D34714%26channelId%3D1%26id%3D1722515%26vid%3D1004594%26instance%3Dmtv%26uri%3Dmgid%3Auma%3Avideo%3Amtv.com%3A1004594" width="512" height="288"