Breastfeeding Backlash! 'Teen Mom' Kailyn Lowry Forced To Defend Posting Online Photos Feeding New Son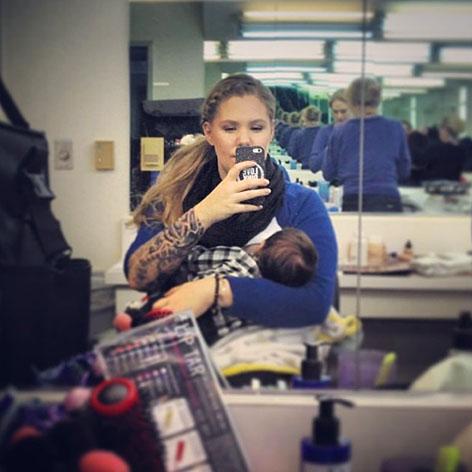 Teen Mom 2 star Kailyn Lowry has come under fire after posting several photos of herself breastfeeding her two-month-old son, RadarOnline.com has learned.
Lowry, who gave birth to son Lincoln Marshall Marroquin in November, has been an outspoken advocate for breastfeeding, but many of her social media followers aren't pleased with the candid snaps.
In one photo, she is seen sitting in a makeup chair and nurses her baby boy. Lincoln's head and body cover most of her assets, revealing only a small amount of skin.
Article continues below advertisement
"What's with all the boob pics?! We get it, you breast feed! Geesh! Have some class woman," one follower tweeted about the breastfeeding photo.
PHOTOS" Kailyn & Javi's Wedding Photos!
The photo continued to spark disappointment in her followers.
Said another, "You can't possibly feed a baby without snapping pics and posting on twitter… posting pics of breast feeding is classless."
Others stepped up to Lowry's defense though, tweeting: "Breastfeeding is the way babies were intended to be fed. Get over it. She should be praised not scolded."
After receiving the backlash and criticism, Lowry stood up for her beliefs.
"Oh, but then do you cover YOUR face while you're eating though?" she posted.
How do you feel about Kailyn's choice to post photos of herself breastfeeding?