Exclusive
'Teen Mom' Kailyn Lowry Undergoes 'Gross' Gum Surgery & Gets Braces Removed Early To Film Reunion Show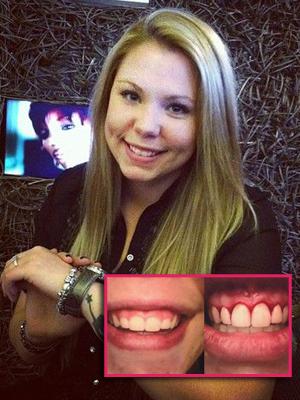 MTV might be only a few episodes deep into airing the fifth season of Teen Mom 2, but it turns out in reality that off-screen the girls are getting ready to film the reunion show — and RadarOnline.com is exclusively reporting that Kailyn Lowry got her braces off six months early so that she wouldn't have them on for the reunion.
"Kailyn got her braces off and had gum surgery," a friend of Lowry's told RadarOnline.com. "Kailyn had the braces off on Thursday, Jan. 30 and the surgery was Friday, Jan. 31."
Article continues below advertisement
Lowry had the braces removed super early.
"She had them taken off six months early," the friend said. "She had them for 13 months."
Lowry had them taken off so she could film the Teen Mom 2 season 5 reunion without braces.
"Kailyn didn't want them in for the reunion," the friend said.
But besides having her braces off, Lowry also had to undergo gum surgery the next day.
"She had altered passive eruption so her gums tightened around her teeth and her teeth never came all the way through when she was younger," the friend explained. "So the periodontist used a scalpel to cut and shape the gums to show her full teeth."
Luckily though, Lowry didn't have to go under for the surgery.
"It was just local anesthesia," the friend said. "It was super gross because she couldn't feel it but, she could hear everything."
The friend expected that Lowry would be "fully healed" by Feb. 4, which was perfect timing as Lowry planned to leave for the Teen Mom 2 reunion in Los Angeles on Feb. 7.
And while Lowry had all of this done and her braces removed early, that is the end of the road for her dental work for now.