Prosecutor Rips Into Jodi Arias, 'You Have Problems With The Truth, You Lie!'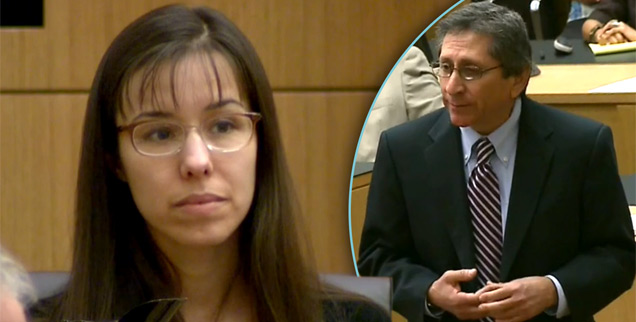 UPDATE: The conflicting nature of Jodi and Travis' relationship was further revealed on Monday as the murder defendant explained how she sent a dozen irises to his grandmother and wrote an 18-page letter to his family after his death, because it made her "feel better."
She went on to flip-flop between calling him the "best friend in the whole world" and then alleging that Alexander slapped her and broke her finger, and later told her ex-boyfriend, Matt McCartney, that the Mormon "choked her unconscious," according to Arizona Republic reporter Michael Kiefer.
Article continues below advertisement
In television footage filmed after she was arrested that was played in the courtroom, Arias explained that she smiled so cheerily in her mugshot photo because she thought, "What would Travis do in this situation? ... He would just flash a grin." In the same clip she claimed she was innocent and would never hurt Alexander.
"I think I believed I was innocent of first degree murder and I planned to kill myself," she said, adding: "It is the truth. I'm innocent of that charge," while looking directly at the jury for impact. Court is adjourned until Tuesday.
Article continues below advertisement
Article continues below advertisement
"Are you ashamed that you killed him?" asked Martinez, according to Arizona Republic reporter Michael Kiefer from inside the courtroom.
"Most definitely," she replied.
However, that shame didn't stop her from passionately making out with Burns on their overnight date where she testified that they cuddled in his bed -- explaining she did so as she didn't know how to act in the aftermath of shooting her ex-boyfriend, stabbing him 27 times and slitting his throat; "Because I never killed anyone before."