Into The Jaws Of Death - Tourists Watch In Horror As Filmmaker Is Dragged Under By Great White Shark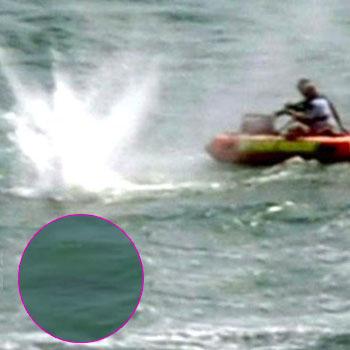 Article continues below advertisement
"All of a sudden, we saw the shark fin and next minute, boom, attack him and then blood every where on the water," said witness Pio Mose, who was fishing at Muriwai Beach near Auckland, around 1.30 pm local time on Wednesday.
Mose attempted to save the stricken swimmer as his friend ran to get help from the coastguards. "He was still alive, he put his head up, we called him to swim over to the rock to where we were. He raised his hand up, and then while he was rising his hand up we saw another attack pull him in the water," he revealed.
The 46-year-old father-of-one bobbed above the surface one more time but onlookers soon realized that he was dead.
Attracted by the scent of blood spreading through the water, four other sharks swooped in to feed on the remains before armed police in a helicopter and an inflatable lifesaving boat arrived and began firing into the water to drive them off.
A regular at the popular beach who was familiar with the dangerous waters, Strange was training for an upcoming Ocean Swim event. "He surfs the beach every day, he loves the ocean" revealed a friend.
Article continues below advertisement
"The family are grieving the loss of a glorious and great father, husband and friend," Strange's family said in a statement.
Strange was an award-winning director with a background in painting, photography and graphic design. He won a Crystal Bear award with his first short film Aphrodite's Farm at the Berlin Film Festival in 2009.
Muriwai and nearby beaches have all been closed following the fatal attack and police continue to patrol the area in helicopters.
Shark attacks are extremely rare in New Zealand, with an estimated 12 to 14 people being killed in the Southern hemisphere country since the 1830s.
"There are much lower levels of shark attacks here than in Australia," explained Clinton Duffy, a shark expert with the Department of Conservation, according to FoxNews.com . "It's possibly a function of how many people are in the water in New Zealand's cooler climate."